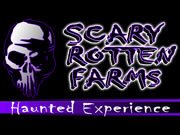 Promotions

Current Promotions
2 TERRIFYING HAUNTS
Sinister Sneed's Chaotic Carnival of Chaos
Jacob Sneed's first foray into the realm of bargaining with the Devil seemed fruitless—yet as his traveling carnival teetered on the brink of bankruptcy, Sneed faced little choice other than to beg the Prince of Darkness to save his doomed festival-on-wheels. But what possible use could the Devil have for pathetic Sneed or his carnival? None—or so it appeared. The diabolical chief of the demons denied his request, leveraging the weak mind of Sneed and driving the pathetic has-been of a businessman to slash his own throat. But Lucifer, the master of deception, knew what he was doing. Upon Sneed's death the Devil reconsidered, bestowing immortality upon the unsuspecting Sneed. Of course, this came with a price… all bargains with the Tempter must come with a price. Though now enslaved to the Devil, Sneed reluctantly has accepted the dictates of his covenant and has embarked upon his CHAOTIC CARNIVAL OF CHAOS FROM TOWN TO TOWN BEGINNING WITH YOURTOWN, where he has commenced the gathering of helpless souls for the Devil. So enter SINISTER SNEED'S CHAOTIC CARNIVAL OF CHAOS at your own risk and relinquish the notion that you will ever return home. Simply accept the joyless dread that your dwindling days of life now offer, as your exit IS NOT GUARANTEED!!!!!
Blackened The Plague
The apocalypse brought with it a time known as "the Blackened", the earth's population was nearly eradicated. Those who survived banded together in separate communities and forced to survive by any means possible. Wars between these communities raged on, death was life.
One such community known as Ravenshire , has been struck with a deadly plague that threatens to destroy them all. The cause and spread of this plague is unknown.The victims experience high fevers, vomiting of blood and grotesque swelling of bodily features. Because of this plague they become dangerously delusional and violent.
Those infected are referred to as the Empty. Inside Ravenshire NO ONE is safe.
Email Haunt Owner
2017 Schedule
September
Su
M
Tu
W
Th
F
Sa
1
2
3
4
5
6
7
8
9
10
11
12
13
14
15
16
17
18
19
20
21
22
23
24
25
26
27
28
29
30
October
Su
M
Tu
W
Th
F
Sa
1
2
3
4
5
6
7
8
9
10
11
12
13
14
15
16
17
18
19
20
21
22
23
24
25
26
27
28
29
30
31
November
Su
M
Tu
W
Th
F
Sa
1
2
3
4
5
6
7
8
9
10
11
12
13
14
15
16
17
18
19
20
21
22
23
24
25
26
27
28
29
30
Hours of Operation: FRIDAYS & SATURDAYS
SEPTEMBER 29 - OCTOBER 28
OPEN AT 7:00 PM, LAST TICKET SOLD AT 10:00 PM
OCTOBER 8, 12, 15, 19, 22, 26 & 29
OPEN AT 7:00 PM, LAST TICKET SOLD AT 9:00 PM
OCTOBER 30 & HALLOWEEN: BLOOD NIGHT
OPEN 7:00 PM, LAST TICKET SOLD AT 9:00 PM

Please note that we can only sell tickets until 9:00 pm Monday through Thursday
Admission Costs: SINISTER SNEED'S CHAOTIC CARNIVAL OF CHAOS : $18.00
BLACKENED "The Plague" : $18.00
COMBINATION (both Haunts) : $30.00
VIP COMBO (both Haunts) : $40.00 - Creep past the line!
Payments Accepted: Cash, Credit Cards, Debit Cards
- event open dates
Event last updated 5 days ago. Please confirm dates on
haunt website
before you go.
All photos and videos within this listing are the property of Scary Rotten Farms
Scary Rotten Farms is located at Berry Fresh Farms
Too Much Hype

The first attractions was pretty scary and I liked it because it was a long path and we had a group(16-22 yrs). We got there at 9:15 and they were still open since we had called ahead. The lady at the front was very nice and the scares were surprising. The only thing was that the forbidden forest was not really scary. The makeup wasn't scary, the actors were a little too friendly and it was short compared to the first scare. The second haunt needs some more work but other than that we had a great time.

| | |
| --- | --- |
| Scare Factor: | |
| Fun Factor: | |
| Haunt Value: | |

Posted 10/30/15

1 out of 2 found this review helpful

SCREAM FOR YOUR LIFE!!!!!!

EXCELLENT!!!!!!! I WAS TAKEN THERE AS A SURPRISE AND FOUND IT TO BE HORRIFYING!!!!!!!!! THE CARNEVAL WAS FANTASTIC AND SCARY AS HELL. WE GOT LOST IN THE HAUNTED WOODS....AND YOU DONT WAN TO GET LOST IN THERE!!!! BELIEVE ME!!!! WE WILL BE BACK NEXT YEAR THO!!!!!!!!!

| | |
| --- | --- |
| Scare Factor: | |
| Fun Factor: | |
| Haunt Value: | |

Posted 10/13/15

3 out of 3 found this review helpful

Scarier than last year!!

This place sets the element of surprise around every turn! After going last year and vowing to come back, we were NOT disappointed! Some friends that were with me couldn't even finish going through the 2nd haunt. Definitely a must see!!! Price is fair also

| | |
| --- | --- |
| Scare Factor: | |
| Fun Factor: | |
| Haunt Value: | |

Posted 10/11/15

4 out of 4 found this review helpful

Pleasantly Surprised

I still haven't been to a haunted house that REALLY scares me but I go just for the fun of it. So while this haunt didn't make me scream in horror, it was very good. They had enough people and props to make you feel like you got your money's worth. I would definitely go again next year.

Posted 10/29/14

amazing!!!!

I went with 5 of my friends. We were in a huddle the whole time screaming and jumping on top of each other. At one point of the carnival chaos we had thought we were in a dream and we have been ranting 2 hours after the event. It was perfect to do with friends and get a good scare before Halloween! We are now making it a tradition to go back every year. It was also affordable, 25 for 2 trails is a great price!

Posted 10/28/14

1 out of 1 found this review helpful

Carnival of chaos

This was a great haunted attraction! My friends and I were scared out of our minds and I would defiantly recommend this to anyone. Can't wait to go back next year!

Posted 10/28/14

You must go

Went the other night to both attractions.... So awesome and worth it... Had a headache from screaming so much... I'm a 39 year old male who screamed so much that one of the performers was laughing and asked if I had "sharted" my pants. She then told my wife to not let me in the car like that. Awesome job... Btw, I live about 1/4 mile away and can hear the screams from my house when the windows are open.... Haha

Posted 10/26/14

1 out of 1 found this review helpful

Exceptional design and creep factors!

We went last night for both attractions and we all had a WONDERFUL time--ages 14-45. So much fun! Great job by all the creatures...everyone had their own cool weirdness and we REALLY got scared a few times, creeped out many times, and marveled at the artistry!  WELL DONE TO ALL INVOLVED!

Posted 10/26/14

0 out of 1 found this review helpful

Sinister at its best!!!

Man what a sinister creative genius!! The thought that went into this is nothing short of amazing. From the costumes to the make up to the actors to the maze design and woods was totally worth the money spent. Would definitely go back!! Great job everybody!

Posted 10/25/14

Screamed the whole time

The family and I chose this site and loved it from the parking lot. Loved the fact that there were options to do either or both. We chose the Carnival and it was great. If we had more time, we would have continued on with the Forbidden woods. Had a great time and would go back for the rest.

Posted 10/25/14

Scared da BEJEBUS outta me!

Scary yet terrifying! My girlfriend and I screamed at every turn.! Not to give anything away but there's some scary things down on the farm!! Both attractions are worth every penny. I know it'll only get better the closer to Halloween it gets! It's a good time! Bring the kids!

Posted 10/22/14

A defininate must go back!!!!

OMG!!!! The haunt was super scary!! I used to love clowns and now i cant even stand to look at them the same anymore. and better every year. This is the best in NJ im defanitly going back!!!!!!!!!!!!!!!!!!!!!!!!!!!!!!

Posted 10/21/14

Scare out of my mind!!

We were at the haunt with a bunch of friends, line was long, but the wait was worth it, from the moment that we went in we couldn't stop screaming, and yes, I almost peed my pants, the characters are impressive, totally recommend it. I can't wait to go back!!

Posted 10/21/14

Great haunt !!!!!!!!

Great haunt very scary my wife and I had a fun time,definitely worth it can"t wait to go back!!!!

Posted 10/20/14

Holy scariness!!!

Babysitter... Check Dinner with husband & friends...check Scary Rotten Farms.... OMG!!!!! Wished I would have gone to the bathroom like my husband suggested before we went in. Literally peed my pants! This was so scary! Seemed like there was something scary around every turn and even in between!!! Holy cow!! Line was long and it was crowded but now I know WHY!!! This is a must go!!!

Posted 10/20/14

scary

30 minutes was worth a trip !!! I was really impressed! every thing was so scary!!!!

Posted 10/20/14

Sick Sick Sick

Best SCARE in New Jersey !!!!! Sinister Sneed's Carnival was incredible.....I actually felt that I was in a creepy carnival ....insane the actors came from all directions....GREAT time !!!

Posted 10/20/14

One of the craziest places I've been

I would recommend this to anyone very well thought through and all the actors were right on key by scaring the crap right out of me !!!!!

Posted 10/19/14

Worth the trip

I drove 30 minutes and was very impressed with the actors and effort put into this haunt. The lines were a little long but I think that says a lot for the haunt. I am not a hayride person so I much prefer this style of walking through. Took us longer than 10 minutes for each haunt... maybe in the other reviews they ran. I just love this kind of stuff. Definitely not kiddish... more for over 12 years old. I would rate it a 4 1/2. The woods were scary but more effort is placed on the first haunt. I say GO to SCARY ROTTEN FARMS!!!!

Posted 10/19/14

this was great.. don't miss out!

This is an incredibly well done haunt. Between the actors, the props, the set up, the scares, screams, music, and vibe I thoroughly enjoyed every minute of it. So worth the reasonable price, very easy to locate. Everyone did such a great job I will definitely be back next year!

Posted 10/19/14

View all Scary Rotten Farms Reviews
All information on this page was submitted to New Jersey Haunted Houses and was believed to be accurate at the time it was posted. Please report any inaccuracies
here
.