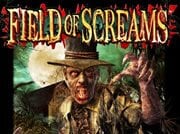 191 College Avenue
Mountville, PA
Details
Average Review

Scare Factor

Very Scary

Appropriate For

Teenagers and Adults

Organization Type

Commercial / For Profit

Listing Categories

More Info

Snacks & Refreshments, Outdoor Event(s), Indoor Event(s), Touching Allowed, Free Parking
With FOUR intense attractions and a fun-filled entertainment area, Field of Screams is unlike anything that you have experienced before. Since 1993 Field of Screams has been taking haunted attractions to the next level by providing the most heart-pounding, bone-chilling experiences year after year, and night after night. There are more gruesome scenes, horrifying sights, special effects, incredible details, and startling scares than ever before and the experience will leave you begging for mercy. No other haunt can compare to the atmosphere and experience at Field of Screams.
Journey through the dark cornfields, where terrifying creatures live and horrific acts occur. Witness atrocities found only in your worst nightmares and experience the thrill of the walking dead. Experience terror like no other in a journey through the Frightmare Asylum where demented patients lie in wait for their next victim. Hear clown's giggling snarls echo through the halls as you try to escape the madness. Walk through the Den of Darkness, a haunted house that was abandoned many years ago but was never fully vacated by the twisted souls that inhabited it. They remain to terrorize guests and leave them screaming for the door. Even more fear awaits you as you trek through the Nocturnal Wasteland desolate forest where few survivors remain. Nocturnal Wasteland provides the most extreme haunted experience as you come face to face with its disturbing inhabitants deep in the middle of the dark woods.
Field of Screams is the most popular and scariest haunted attraction destination for Lancaster, PA and other nearby east coast cities such as Baltimore MD, Washington DC, Philadelphia PA, New York, New Jersey, and Delaware. People drive for hours and to the Original, one and only Field of Screams Farm in Lancaster PA to get the most blood-curdling, hair-raising terror they have ever experienced. Live in your nightmares as you journey through each attraction and be prepared for the most horrifying experience of your life because Field of Screams takes fear to a whole new level. Are you prepared to Experience the Chill of Field of Screams?
Email Haunt Owner
All photos and videos within this listing are the property of Field of Screams
Email Verified

Full of intense scares

I have been to few local haunts, and none comes close to Field of Screams. The set designs are of movie quality. Attention to details is commendable. Hayride was fun. It had few startling scares that made my GF scream. Nocturnal wasteland had more intense scares. In the den, it was pretty dark. You only notice the monsters only when they get really close and that freaked me out. Thumbs up!!

| | |
| --- | --- |
| Scare Factor: | |
| Fun Factor: | |
| Haunt Value: | |

Posted May 2019

Email Verified

Brilliant

A Halloween carnival unleashed with great fanfare. My family is a big Halloween fan and they love visiting haunts during the season. This time we ended up at field of screams and had fun. Never was a boring moment. Line was long yet entertaining. There were photo booths. Keep clicking with your favorite monster. The photos will be emailed to you. The four attractions were planned well with good use of technology. The actors were brilliant and interactive. They have rehearsed their part well. With ease, they give you on the face scares. Quite a decent haunt compared to others.

| | |
| --- | --- |
| Scare Factor: | |
| Fun Factor: | |
| Haunt Value: | |

Posted January 2019

Email Verified

Full of thrills

This was my first attempt to a haunt house and it certainly was a different experience. Field of screams was a different ball game. Went there with family and friends and we all did love it. The haunts were good and interactive with full on thrills that can make you scream. The hayride was great. It wasn't getting over and we got to face a lot if scares. We could feel the chills due to sudden noises and creeks. It was a great first experience and I am surely going to make this a habit.

| | |
| --- | --- |
| Scare Factor: | |
| Fun Factor: | |
| Haunt Value: | |

Posted November 2018

Email Verified

Totally freaked us

I am a fan of puzzles. So I tried the 5-minute escape rooms. The one I got was the Heist wherein you got to steal an art work. Fortunately, my team had couple of nerds like me and we managed to crack the code within the allowed time. Great fun it was. The Frightmare asylum and its creepy sets and actors totally freaked me out. The three stories of Den of Darkness had many jump scares, creepy props, gory characters and scary sets. The creepy hallways and narrow passages had left my heart pounding. Doll room and the operation rooms stood out for its creepiness. Nocturnal wasteland also had good scares. The staff was friendly. Food was nice as well. I will visit again with kids soon.

| | |
| --- | --- |
| Scare Factor: | |
| Fun Factor: | |
| Haunt Value: | |

Posted November 2018

Very scary

Just came here tonight and it looked like everyone else was scared too. Awesome place, had lots of really cool attractions. Very scary too! Cannot wait to go back!

| | |
| --- | --- |
| Scare Factor: | |
| Fun Factor: | |
| Haunt Value: | |

Posted October 2018

SCARY

Visited this place and it was SCARY!!! The asylum had creepy sets and scary characters. The costumes were spot-on. It helped that we were let in as small groups. It was an entertaining night/evening we had. I will visit again with kids.

| | |
| --- | --- |
| Scare Factor: | |
| Fun Factor: | |
| Haunt Value: | |

Posted October 2018

Email Verified

We loved it

We have always been faithful to most haunts in the vicinity and this time made a beeline to field of screams with my friends. Most of us were pretty excited and liked the way scenes were detailed out. Actors and props were brilliant and the hayride was long and had loads of fun and laughter. Special effects and sounds did create a stir in us. We loved it and will definitely recommend.

| | |
| --- | --- |
| Scare Factor: | |
| Fun Factor: | |
| Haunt Value: | |

Posted October 2018

Email Verified

Good amount of scares and fun

Did not expect such detailed presentation and the scares were well acted out. It came out of the blues and got us screaming. The lighting and sound effects were superb. Good amount of scares and fun. Totally would recommend.

| | |
| --- | --- |
| Scare Factor: | |
| Fun Factor: | |
| Haunt Value: | |

Posted October 2018

Email Verified

An amazing experience

It was an amazing experience. I and my BF enjoyed every minute of it. We reached there by 5.15 pm and straightaway chose to do the Frightmare Asylum and Den of Darkness. Both the haunted houses had incredibly detailed sets and tons of bone-chilling scares. Few of the grotesque faces freaked me out in there. By the time we did hayride, it was well past 6pm. The darkness increased the scare factor in the woods. The nocturnal wasteland also had some mind numbing scares and props. Actors all performed their roles to perfection. Pretty cheap as well. Recommend this place.

| | |
| --- | --- |
| Scare Factor: | |
| Fun Factor: | |
| Haunt Value: | |

Posted October 2018

Wow...so much fun!!

So much thrills and so much fun. I think my heart is still racing from the last time around, but I can't wait to go back!

| | |
| --- | --- |
| Scare Factor: | |
| Fun Factor: | |
| Haunt Value: | |

Posted October 2018

Will Visit Again

The lines were long.. opt for VIP passes hence. The hayride was predictable and was not the longest either. But it was still effective. The props interacted and things came down from the ceiling and actors jumped on the vehicle with all scary effects. My favourite was the Nocturnal Wasteland.. the walk through was mind blowing. It was long, winding, and quite foggy..abandoned vehicles will make you think that you're in the middle of a horror movie set. The jump scares occur when you least expect them.. my GF screamed out loud. The food and drinks were awesome. I will visit again.

| | |
| --- | --- |
| Scare Factor: | |
| Fun Factor: | |
| Haunt Value: | |

Posted November 2017

1 out of 1 found this review helpful

Email Verified

Pretty Scary

It was pretty scary.. there were many rooms and lots of effort has gone into their design. The hayride had some good scares. The degree of interaction between the actors and props, and the visitors in the wagon was simply unprecedented. But it was a bit short. The Nocturnal Wasteland was excellent.. you can't say when something will scare you. The school bus really got me good. The darkness and fog added to the eerie feel. The Den of Darkness was narrow and dark, and creepy. The staff was helpful throughout. I recommend this place.

| | |
| --- | --- |
| Scare Factor: | |
| Fun Factor: | |
| Haunt Value: | |

Posted November 2017

Email Verified

Fantastic Evening

Visited Field of Screams with my hubby and had a fantastic time there. Frightmare Asylum freaked me out, especially when an actor grabbed my leg. I screamed as if I were caught by a croc. The props were realistic. The clowns with the chainsaw at the end was brilliant. Haunted hayride was predictable. Couple of times I was startled..but nothing scared me much. My favourite was the Nocturnal Wasteland.....it was long, dark and foggy, and had scares at unexpected quarters. Certain jump scares made me scream to be honest. The actors did a great job I thought. The food was awesome. Overall, we had a great time.. can't wait to go again.

| | |
| --- | --- |
| Scare Factor: | |
| Fun Factor: | |
| Haunt Value: | |

Posted October 2017
All information on this page was submitted to New Jersey Haunted Houses and was believed to be accurate at the time it was posted. Please report any inaccuracies
here
.