C Casola Farms Haunted Attractions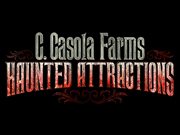 131 Route 79 South
Marlboro, NJ
5 Terrifying Attractions! One Location!

Haunted Hayride of TERROR

Take a Haunted Hayride into the back woods of New Jersey. People say they see and hear things that come alive. So maybe if you're lucky you may see their shadows and hear the horror of the victims cries as they roam by. Are you afraid of things that go bump in the Night? Than come take a ride.

3D Haunted Barn

Visit our Haunted Barn and walk through as the Haunting images stick in your mind, as creatures cling to the walls with fangs and claws waiting for their next victim to come along. So don't fall behind, Make sure to stay in line. This is the scariest Haunted Barn on the East Coast you will find.

The Haunted Wooded Trail

The Haunted Wooded Trail will take you to the depths of New Jersey's back woods. With each step you take, you will swear you can hear the breathing of creatures surrounding you through out the night. Each step may be your last, so Beware! If you dare to take a walk on our trail.

The Living Maze

Enter our Living Maze it will put you into a Hellish Haze with all it's twists and turns. Try to escape it's deadly grasp for the Living Maze will have the last laugh.

Marlboro Zombie Breakout

We need your help to exterminate these psychotic zombies. Are you up to the task? Can you help C. Casola Farms get rid of the walking dead? There is only one way to find out....and that is to take up a gun and start shooting. Good luck future zombie exterminator and may the fates be with you!

What is Zombie Paintball? You ride in an army truck (like the one below) with paintball guns mounted along the sides and shoot zombies (not each other) - and because they're zombies, they don't know how to use guns, so they can't shoot back! Great for all ages!
COVID-19
| | |
| --- | --- |
| | Some locations may have last minute updates due to changing circumstances. Please visit the attraction's website and/or social media before going to double-check that they are open. |
All photos and videos within this listing are the property of C Casola Farms Haunted Attractions
Wicked

This was my third visit. Still they'd included enough new scares and props to keep vistors like us entertained. The haunted trail was great fun. It featured some heart thumping jump scares and props that had my GF screaming. It was tough to see the scares coming your way in the dark. Zombie paintbal was great fun. The food you get outside was yummy too, especially the hotdogs and funnel cakes.

| | |
| --- | --- |
| Scare Factor: | |
| Fun Factor: | |
| Haunt Value: | |

Posted November 2019

1 out of 1 found this review helpful

Terrifying night

Came here with my family and we had a blast. Cool themes quite professionally executed. The hayride was perfect. The actors and effects gelled well. It was scary and we did scream. The barn was mind blowing. Loved the horrific scenes. Good presentation by the actors. Frightening is not the word you feel at the trails. It is paranoia. Actors gave us a tough time. Shooting the zombies was fun. Loved the excitement. Looking forward for another session.

| | |
| --- | --- |
| Scare Factor: | |
| Fun Factor: | |
| Haunt Value: | |

Posted October 2019

Totally awesome!!

Visited Casola at the insistence of my teenage daughters. But the experience totally blew me away. The 3D attraction was my favorite. It had a graet concept, scares and creepy actors who'll run after you. My daughters did most of the screaming here. But they still likd it for some reason. Hayridewas little bit predictable. The maze had few good hidden scares that had caught us off guard. Again, great planning and execution by the actors. Snacks was awesome too.

| | |
| --- | --- |
| Scare Factor: | |
| Fun Factor: | |
| Haunt Value: | |

Posted October 2019

1 out of 1 found this review helpful

Badass!!!

I was expecting bit of a long wait in the lines. But it wasn't that bad. We'd managed to enter in15 minutes. Opted for three of the attractions and it was great fun. Hayride was super fun and scary. About a dozen people popped up out of nowhere and scared the crap out of us. The 3D haunt packed lots of surprises. Few of the scary characters even chased us around. The sets and attention to details were awesome. The third one was the woooded trail. The walk through the woods in the dark freaked out my wife. Some of the scares in there startled me badly. Excelent props and lighting effects as well. Worth the time.

| | |
| --- | --- |
| Scare Factor: | |
| Fun Factor: | |
| Haunt Value: | |

Posted October 2019

1 out of 1 found this review helpful

Email Verified

Not scary

It was fun, but not worth the money.Zombie paintball was plain fun. Nothing much scary in it, and we had a great time aiming and shooting at zombies. Kids loved it the most. Need gaps in between groups otherwise it just kills the scares.No, just no.

| | |
| --- | --- |
| Scare Factor: | |
| Fun Factor: | |
| Haunt Value: | |

Posted October 2019

Frightening night

100% scared the heck out of me.The barn was frightening. Had tough time walking through the trail. Most of us were running and screaming aloud.Had fun at the maze. It was a challenging to find our way out. Will be going back!

| | |
| --- | --- |
| Scare Factor: | |
| Fun Factor: | |
| Haunt Value: | |

Posted October 2019

Email Verified

Awesome

Loved the theme here and how it was implemented. A variety of haunts put together by an expert team. It was professional. It was a crowded night and we had to wait for quite a long. The experience paid off well. Took the hayride into the woods. It was a scary one that was quite long. The barn was a unique one. The 3D effect worked well. I have always been averse of wooded trails and this one was no different. The walk was tough. Maze was superb and we had a blast with the zombies.

| | |
| --- | --- |
| Scare Factor: | |
| Fun Factor: | |
| Haunt Value: | |

Posted October 2019

Email Verified

Scary great fun!

I felt compelled to write this review in response to the negative review that was posted earlier this season. It had almost swayed me into skipping C Casola Farms, but I'm glad I didn't! I bought the $60 combo ticket which included the paintball, but you can buy other combos, fast pass VIP, or a la carte. Seems expensive, but it is really not compared to other haunts. The Zombie Paintball was fun and we did have to wait about twenty minutes on line - a little while later there was no line at all, so timing is everything. The "tour guide" for our excursion was animated and his "announcements" added to the fun. Well done. The Living Maze was must bigger than we expected and it was quite difficult to find our way out, so this also did not disappoint! The Haunted Wooded Trail was really creepy and included a few live actors that chased us around - I am particularly frightened by clowns, and there was one of those. They didn't just chase you for twenty feet and then retreat - we were chased a good distance, and that clown resurfaced twice popping out of in the woods! I screamed a lot! The Haunted Barn had a lot of animatronics but also included live actors which also chased us. Didn't have a chance to do the Hayride, but will probably go back for that since I have my unused ticket. Had hot chocolate and popcorn, both were good. All in all a really fun and scary time!

| | |
| --- | --- |
| Scare Factor: | |
| Fun Factor: | |
| Haunt Value: | |

Posted October 2019

0 out of 1 found this review helpful

Good jump scares

Setup is nicely done. The creepy characters hanging from the walls scared the crap out of me. Living maze was disorienting. Once you lose your way, you are at the mercy of the actors. Good jump scares nevertheless.

| | |
| --- | --- |
| Scare Factor: | |
| Fun Factor: | |
| Haunt Value: | |

Posted October 2019

1 out of 1 found this review helpful

The most underwhelming haunt I've ever been to

I have been to a ton of haunts. I've been to some great ones and some pretty terrible ones and this takes the cake for the worst. My friends wanted to do something fun with our night without having to go far so we checked out the hayride. They had animatronics, all of which were not working. There were like 5 actors. None of which made any sort of effort to be scary. They just walked on and off the wagon. Some of the actors instantly broke character after hoping off the wagon, fooling around still within eyesight. Some lingered way too long making everything get old rather quickly. The scenes had absolutely no decorations and were too dark to see anything. On top of that, there were no actors near any of the scenes which made it even more underwhelming. I know it was early in the season, however it would have been nice to see more than 5 people. There was a person on the wagon with us who got in the way of all the other actors and also talked the entire time ruining the experience. I've been more scared from a friend sneaking up behind me than I was on this hayride with actors. I won't be coming back to this haunt any time soon.

Scare Factor:
Fun Factor:
Haunt Value:
Length of Event:
< 10 minutes
Time Visited:
5PM - 9PM
Would Recommend:
No
Suitable For Kids:
Yes

Posted October 2019

5 out of 6 found this review helpful

Email Verified

Far out

Came here with my children and we had a great time togehter. The kids enjoyed the most. It was a tough time at the hayrides. Most of us were screaming. A good start to a great night. Themes were kept unique throughout. Zombies were superb. It was fun mounting on the gun loaded wagon. The sets were designedto keep the theme alive. Got spooked in the maze many a times. It was fun to find our way out. Kids have already begged for another round. Loved it.

| | |
| --- | --- |
| Scare Factor: | |
| Fun Factor: | |
| Haunt Value: | |

Posted September 2019

3D haunted barn was spooky

I and my cousins visited three of the attractions, and we went back a happy bunch. The 3D haunted barn was the spookiest. It had few mind numbing scares and creepy sets that would freak you out. The gory characters inside gave us a tough time. The living maze was disorienting. Since it rained a day before, it became more of a mud pit in few places, eventually ruining our shoes. The haunted hayride was bit of a damp squid. Overall it was great fun. I will come back again to check out the rest of the attractions.

| | |
| --- | --- |
| Scare Factor: | |
| Fun Factor: | |
| Haunt Value: | |

Posted June 2019

Wild and adventurous

Haunts is always a must during the Halloween season and we always end up visiting most of them near our neighborhood. Casola farms was always in our list and we have been repeated patrons. The place never ceased to entertain us. Well worth the time and money with lots on its platter. Wild and adventurous hayride took us to the depths of heavily wooded forest. Dark and so much noisy, you can feel the beastly beings around you.

| | |
| --- | --- |
| Scare Factor: | |
| Fun Factor: | |
| Haunt Value: | |

Posted November 2018
C Casola Farms Haunted Attractions
All information on this page was submitted to New Jersey Haunted Houses and was believed to be accurate at the time it was posted. Please report any inaccuracies
here
.