Lehigh Valley Scream Park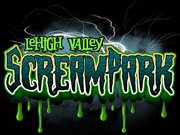 2951 Betz Ct.
Orefield, PA
Your experience will start with our Hollow of Horror Hayride which is nestled in 50 acres of terrain like no other. The tractor pulled hay wagons will take you down the mountainside, through the dark woods and into the swamps of terror, we promise this will be a hay ride like no other, From there Aunt LuLu will be waiting in our Hillbilly Hell haunted house & Slaughter Barn. 10,000 sq. ft. of pure terror and lets not forget the ALL NEW Dead End Corn Maze- now tripled in size and scares.
Hollow of Horror Hayride (New in 2018)
Your journey begins on a tractor pulled hay wagon through 50 acres of Pennsylvania fear and terrain like no other. Your ride will take you into the dark trails of our hollow of horror for one of the longest and scariest rides around. Be ready as every hill, every corner, every tree may have creatures lurking and be warned people do get pulled from the wagon.
Hillbilly Hell
Your backwoods journey will start with Hillbilly Hell, the home of Aunt Lulu and her demented half breed children that don't take much of a liking to unknown visitors. Be careful through this sector cause at this time of year, they ain't no groundhogs or rattle snakes to eat and these fellers have been known to dine on normal folk.
Slaughter Barn
As you exit this house of horror through aunt lulu's backyard, you will submit to the Slaughter Barn where only the strongest of hearts dare to enter. This barn is home to Chester and his slaughter house is one of the most frightening and disturbing haunted barns around. Carefully make your way though the butcher house, open burial pit, Chester's work shop along with his whiskey still area and be on the lookout as rumor has it that Chester has bred some type of barn monster that is half human and half animal and he has it chained up inside somewhere.
All New Dead End Corn Maze
If you make it this far, the horror will only get worse. Dead End Corn Maze is full of dreadful surprises before you exit and that's if you can find your way to the exit. But don't worry Chester has a plan for the ones that can't find their way out.
Email Haunt Owner
All photos and videos within this listing are the property of Lehigh Valley Scream Park
Great scary entertainment

I and BF drove for an hour to reach the place. The haunted house had different rooms and well thought-out features tailor-made to scare the visitors. I especially found the confined air blown part creepy. The hayride took us through some uneven terrain and dark woods that would freak you out. The clowns were scary and funny. The lady at the end that hangs out with the clowns was awesome. Overall, it was great entertainment for a reasonable price. I plan to visit again next season.

| | |
| --- | --- |
| Scare Factor: | |
| Fun Factor: | |
| Haunt Value: | |

Posted May 2019

Fun unlimited

It was a great evening at Lehigh and loved everything about this place. Hayride to the maze everything was unique and spectacular. The actors had a blast and they were quite energetic. They did not spare anyone. The zombie paintballing was out of the world. They were too many and you feel the place was infested by them. Fun unlimited.

| | |
| --- | --- |
| Scare Factor: | |
| Fun Factor: | |
| Haunt Value: | |

Posted March 2019

Memorable trip

It was a memorable trip to Lehigh. We had a great time together as a family. Most of us like haunts and it is a part and parcel of Halloween season. The rusty ride on a truck to kill all the zombies was interesting. It is the longest ride and was filled with genuine action. A big challenge to your mind and senses. The zombies looked very much real and a first timer could get cheated. It was a complete transformation with the right make up and clothing. Overall a great experience and we love to be back to have more excitement.

| | |
| --- | --- |
| Scare Factor: | |
| Fun Factor: | |
| Haunt Value: | |

Posted November 2018

Email Verified

Full of scare moments

Initially, I was a bit apprehensive of Leigh. But I was wrong! I and GF did all events and it was super awesome. She screamed her head off in the corn maze. It was pitch dark and we kept on hitting dead ends, and all the while being chased by a clown with chainsaw. There was a surprise – not revealing it here – at the end of the hayride that freaked me out. Hillbilly was super scary. The outside walkthrough was also interesting. The hayride was long and it passes through scary woods and quite uneven terrains. Grotesque creatures lurking in the dark could scare the daylight out of you. Slaughter barn also had few bone-chilling scare moments. Kudos to the management for putting up some things that we have not seen elsewhere. Definitely recommend it.

| | |
| --- | --- |
| Scare Factor: | |
| Fun Factor: | |
| Haunt Value: | |

Posted November 2018

great fun

You come to a haunted house to get scared, and have a good time. The LV Scream Park provides just that. The haunt was well designed with different themed rooms and mind numbing scares and props. The long hayride was great fun. The walk through was entertaining with all the paintball shooting zombies and other scares. The corn maze was disorienting with lots of dead ends. I was chased by a chainsaw character that freaked me out. It was also a bit muddy, ruining my shoes. I was with my family members, and they'd loved the events very much. The actors all did a great job. I will come again next year for sure.

| | |
| --- | --- |
| Scare Factor: | |
| Fun Factor: | |
| Haunt Value: | |

Posted October 2018

Email Verified

Scare, fun and laughter

The maze was thrilling and had its set of scary moments. Had a lot of good moments with fun and laughter. Hayride was another exciting event filled with interesting scenes. The actors presented it very creatively. 5 stars!

| | |
| --- | --- |
| Scare Factor: | |
| Fun Factor: | |
| Haunt Value: | |

Posted October 2018

Email Verified

WOW…..fantastic

WOW…..fantastic. Had some bone-chilling scares and gore that I absolutely hated. The gory actors scared the crap out of me. Surprisingly, my friend did not find Hillbilly not too much scary.

| | |
| --- | --- |
| Scare Factor: | |
| Fun Factor: | |
| Haunt Value: | |

Posted October 2018

Email Verified

decent scares

I am a regular at most haunts. Even then it was my first time here and my friends had recommended for it. It wasn't disappointing. All attractions were good and had decent scares. The zombies were brilliant. I have never tried paintballing and it was a unique experience. Jumped out of joy when I hit the target. Paintballing from the truck was tricky and exciting. They were spontaneous and were in great form to present the character. We felt is as a unique experience. Definitely pay a visit.

| | |
| --- | --- |
| Scare Factor: | |
| Fun Factor: | |
| Haunt Value: | |

Posted October 2018

Email Verified

Great job

Beautifully designed but a gruesome and scary barn! Great job!

| | |
| --- | --- |
| Scare Factor: | |
| Fun Factor: | |
| Haunt Value: | |

Posted October 2018
All information on this page was submitted to New Jersey Haunted Houses and was believed to be accurate at the time it was posted. Please report any inaccuracies
here
.