Field of Terror Haunted House & Hay Ride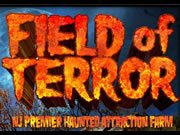 831 Windsor Perrineville Rd
East Windsor, NJ
Details
Average Review

Scare Factor

Scary

Appropriate For

-

Organization Type

Commercial / For Profit

Listing Categories

Haunted Houses, Haunted Hay Rides, Zombie Hunts & Shootouts, Haunted Mazes / Haunted Corn Mazes, Pumpkin Patches, Scream Parks, Zombie 5k Runs, Hay Rides (Kid Friendly), Mazes / Corn Mazes (Kid Friendly), Other Events

More Info

Touching Not Allowed, Free Parking
The Field of Terror is New Jersey's Largest Haunted Attraction Farm. We own over 120 acres of preserved farmland where we host our annual Haunted Hayride, Field of Terror Cornmaze, and 2 walk-through attractions..The Unknown and Dementia.. as well as our family friendly flashlight maze. This Family owned and operated business bringins chills and thrills to guests from all over the East Coast!! Visit us this fall and experience the Terror for yourself at the Field of Terror..with 4 unique Terror-filled attractions!!
Email Haunt Owner
Sunday, October 8th at 8 PM - Fireworks Night (FREE!)

Saturday, October 28th - Zombie Mud Run during the day - Field of Terror also open from 7-11 PM
Every Saturday and Sunday in October is a Family Friendly Fall Fun Day from 10 AM to 5 PM. Enjoy a free hayride to the pumpkin patch where you can pick out your very own pumpkins to take home. There will also be cider, caramel apples, cornstalks, assorted fruits and vegetables, straw bales and other fall decorations available too!
2017 Schedule
September
Su
M
Tu
W
Th
F
Sa
1
2
3
4
5
6
7
8
9
10
11
12
13
14
15
16
17
18
19
20
21
22
23
24
25
26
27
28
29
30
October
Su
M
Tu
W
Th
F
Sa
1
2
3
4
5
6
7
8
9
10
11
12
13
14
15
16
17
18
19
20
21
22
23
24
25
26
27
28
29
30
31
November
Su
M
Tu
W
Th
F
Sa
1
2
3
4
5
6
7
8
9
10
11
12
13
14
15
16
17
18
19
20
21
22
23
24
25
26
27
28
29
30
Hours of Operation: Sunday-Thursday: 7-10 PM
Friday & Saturday: 7-11 PM
Admission Costs: Single Pass (one attraction)
$15 - VIP $30

Double Pass (two attractions)
$25 - VIP $50

Triple Pass (three attractions)
$35 - VIP $60

Quad Pass (all four attractions)
$40 - VIP $65

VIP tickets get you to the front of the line without the wait!
Payments Accepted: Cash, Credit Cards, Debit Cards
- event open dates
Event last updated 28 days ago. Please confirm dates on
haunt website
before you go.
All photos and videos within this listing are the property of Field of Terror Haunted House & Hay Ride
DO NOT USE MAPQUEST. MAPQUEST WILL GET YOU LOST!!! CALL FOR HELP
Email Verified

Awesome

First time in a couple years since I was went on a Halloween attraction. The 2 my friend and I went through was the Killer Kornmaze and the Unknown. I thought the kornmaze was the best out the 2 we went through. Definitely was scary, but I wish while you were walking through the corn that someone would pop out at you. I think that would have made the walk through a lot better. The unknown I thought was okay. It wasn't as scary in my opinion. I think they needed more actors to scare you as you walked through. Overall, I had a great time. They do offer food and there was a DJ that played music. Prices were decent as well.

| | |
| --- | --- |
| Scare Factor: | |
| Fun Factor: | |
| Haunt Value: | |

Posted 10/16/16

2 out of 2 found this review helpful

If you go anywhere else you wasted money

The line for the hayride is worth the wait. In the five years we've gone the longest we've ever waited was 40 minutes. The maze is amazing. NOTE: first visit i had a bad knee and had to quit it early. There is some climbing involved. I'd also advise purchasing the package you can always come back the next day to finish if it gets too late. Purchasing tickets ahead of time cuts the amount of time you stand in line to get your coins. While you can't take pictures in the attractions you can get some great photo opps with the characters walking around. The staff is great, very helpful and friendly. Friday and Saturday night are VERY busy and weather doesn't usually stop people from showing up. Wear layers, the hayride can get cold but if you walk the maze you can build up a sweat!

| | |
| --- | --- |
| Scare Factor: | |
| Fun Factor: | |
| Haunt Value: | |

Posted 9/12/16

3 out of 4 found this review helpful

BEST ONE

went to this attraction 2 yrs ago and I LOVED IT! Had such a fun and scary time. The past 2 years my friends and i went somewhere else and nothing could even come close to the feild of terror. DEFINATLY going this year!!!

| | |
| --- | --- |
| Scare Factor: | |
| Fun Factor: | |
| Haunt Value: | |

Posted 1/25/16

3 out of 4 found this review helpful

Pissed my Pants

Hayride- first you come to the coin taker and she was very polite dealing with rude people. The ride it was okay, actors need to up their game but they change the layout and the scenes are by far worth seeing. Just wish zombies did better job. Took about 30 minutes. KillerKorn - first person again is the coin taker and she gave us rules & even thanked us for coming. Then she introduced us to the guy behind us. OMg not gonna give it away but he was AWESOME. by far BEST scare of my life. Pissed my pants prior to even start starting the walk. jebediah scared the freaking piss out of me literally. Oh they had a group in front of us run out scared so they sang a song. (Nah nah bye bye) everyone in line joined in. Funny but made us even more scared. As you're walking through the corn the different scenes are scary as all hell because you don't know where anybody is going to jump out. The people at the end in the clown room could have been a little bit more scarier but then being chased by the chainsaw in the end OMG I couldn't run fast enough out of there. I did get my cardio workout and the scare alone cuz it was to die for. Thank God I had my monthly friend because I had a pad on so it save my pants from getting wet. Took us a good 45 minutes to walk/run at end through. Unknown- the unknown to start off the guy with a gun didn't really make me feel comfortable with today's day in age. But inside it was extremely scary some empty scenes which was a little disappointing but the other actors in the other scenes that were filled made up for it by far I absolutely love the fear of the unknown. 20 minutes to go through. Ok the 3d barn is actually pretty cool just wish the glasses could stay on the face a little bit better. I didn't quite care for the coin person he was a little bit rude. My problem with him last I went back to tell him that the glasses weren't staying on and he said to freaking bad lady. And I asked him who the manager was and he told me he was and I just thought he was a little obnoxious. But the inside was absolutely great the proper setup awesome the actors were awesome like I said the problem was with the glasses not staying on my face. And again that was my only issue. 1/2 hour to walk through really took in the decorations done up really cool. Paintball- it's worth the money if you have kids and they don't want to do anything else because they're too afraid. It's not something that I would do with just my husband and I because it's just paintball and riding around shooting people. It was so cool how the zombie did jump up on the trailer while we were shooting the other zombies and we didn't know he was on the trailer so that he did scare us. But like I said that's really good for like the pre teens or the little kids but as an adult I found it not scary and quite boring but the scenes and everything were set up pretty cool and I guess that's what paintball supposed to be but its not my thing. Half hour ride. Now all together the field of terror I think is awesome it's well worth the money. I wouldn't buy my tickets online because they charge a convenience fee because they are purchased through a third party. I don't quite understand the whole purpose of the waivers but I think it's pretty cool that they had waivers. Also if you don't want to wait in line the VIP purchasing is a good idea my thing with a VIP I did find some of those people to be rude but hey they weren't raised with manners. Now my only gripe & biggest gripe I don't smoke and standing in line and people smoking drives me absolutely nuts and I wish there was a way that the smoking could be more controled the especially when you're standing in line at the corral. Now I will give kudos to the cornfields because they did have scary actors asking people politely not to smoke but in places say it on the hayride we had an actor jump on the hayride with a cigarette that was not cool but like I said if there's a way to control the people smoking in line and telling them or having big signs placed no smoking no smoking no smoking it would help. Anyway I really enjoy it it's a great setup the DJ was just okay been better in the past this year he was okay. You would think your at a farm they'd play country music nope not at all or club music nope just random songs. Years past they'd have line dancing music and the actors would dance and that I missed this year. Then maybe it was because we came on Halloween. The food oMG I don't know what that food truck was the one that had the ribs & chicken but it's the one with loud ass truck but oh my gosh its food was out of this world. so if you come on an empty stomach and you come at 7 o'clock you could get everything done and still have a good time. Oh the other thing I heard standing in line was complaining that people were afraid they didn't have enough time to do everything. But I asked a coin taker and she explained they stop selling tokens at 11 and they stay open until everybody is done with every attraction so they could be there till 3 o'clock in the morning but they let you finish everything so you get your money's worth and it was worth it it was worth every dime we spent and this is our fourth year common and hopefully will be there next year but the field of terror rocked it and killed it this year.

Scare Factor:
Fun Factor:
Haunt Value:
Length of Event:
> 1 hour
Time Visited:
5PM - 9PM
Would Recommend:
Yes
Suitable For Kids:
No

Posted 11/13/15

13 out of 14 found this review helpful

Keeps on getting better!

I went this year and it was by far still one of my favorite haunts. You get your $$ worth when you come here with the Cornfield maze alone. The hayride can use some more help and the actors need to step up their game on the hayride, but the rest of the attractions, the barn, the maze, the 3D dementia make up for it. Def a fun and scary experience! My friend ran in the cornfield for about a good minute straight and the actor ran right behind her! they did this a lot great time!

| | |
| --- | --- |
| Scare Factor: | |
| Fun Factor: | |
| Haunt Value: | |

Posted 10/31/15

5 out of 5 found this review helpful

Awesome awesome awesome!!!

Just got home! I screamed my a$$ off tonight ... I went last year and this year I went as a first date actually. And it was one of the best first dates I've ever been on. We had so much fun!!! The 3D was aesthetically awesome, wish there was a few more scares in there tho. Best corn maze BY FAR (and I go to a lot, I love this time of year and haunted attractions). You definitely get your money's worth. And the food is great!!! You can buy your tickets and picture with a card but need cash if you want food. Definitely 5/5 for me!

Scare Factor:
Fun Factor:
Haunt Value:
Length of Event:
> 1 hour
Time Visited:
After 9PM
Would Recommend:
Yes
Suitable For Kids:
Yes

Posted 10/24/15

6 out of 6 found this review helpful

Best In Tri-State Area

We go to FIELD OF TERROR year after year. As avid huant fans, we have traveled hours to "top rated" haunts in NJ, NY and PA and FIELD OF TERROR is still our NUMBER 1 A+ haunted attraction. They always seem to get better year after year even when it seems impossible. By far BEST Corn Maze anywhere! Great Job!

| | |
| --- | --- |
| Scare Factor: | |
| Fun Factor: | |
| Haunt Value: | |

Posted 7/15/15

11 out of 12 found this review helpful

AMAZING!!

This place is awesome don't bother wasting your time somewhere else if you're only going to one haunted house this year. and for the person that said its dirty and you can catch Ebola your ******* idiot and you don't even catch it that why review a place like that go somewhere else then. LOVE LOVE LOVE THIS PLACE

Posted 10/26/14

6 out of 7 found this review helpful

AWESOME

We have gone the past 6 years and by far this year is the BEST! KILLER Corn is OMG scarest by far. The group in front of us the lady pooped her pants. Hayride is very intense Love all the pumpkin lights very creepy. Unknown is just as scary as the past. Dementia is so cool as long as you wear your glasses they provide. The Zombie paintball is cool as hell. Wouldve loved more zombies to shot but for the first year with the amount of balls provided its awesome and I see it getting better next year. Awesome Haunt and by far one of the BEST!

Posted 10/17/14

6 out of 6 found this review helpful

Great place!

Hay ride is basic. All the other other attractions are great. They have a dance floor, DJ, some food vendors and a fire pit for the people who don't do the attractions or to just sit and relax after your done with everything. The people are nice. The characters are great. I have been going here with my kids ages 18, 15, 12 & 8 for 3 years now and the all love it. We had done some of the other area attractions and this one was the best.

Posted 10/11/14

9 out of 9 found this review helpful

Really Disappointed

I went to this one last year and expected that they had upped their game but I was just as disappointed as last year. Aside from a few shock value scares..it wasn't worth the hour drive. Don't waste your time unless you need something not so scary for children. You spent 80% of the hayride in empty space looking at stars.

Posted 9/28/14

1 out of 5 found this review helpful

Family Fun 4 All

I go here at least three times every year for the last three yrs. My husband and two kids (9&14) absolutely LOVE this place. If u don't like haunted attractions like my then 6 yr old did at first it's still a great place to sit by the fire with hot chocolate or dance on the dance floor to the DJ. Also it def won't break the bank.

Posted 9/20/14

5 out of 5 found this review helpful

Love this place!

I've been going to this place for the last 3 years and I love it. They definitely give you your money's worth as far as length of the attractions. They're not quick to get through. The props and sets are so detailed and creative and the most of the characters are pretty awesome too. Wouldn't say it's terribly scary but they'll get you a few times. Would definitely recommend!

Posted 10/13/13

4 out of 5 found this review helpful

Pretty Decent - Not Great

For the price you pay you would expect a little more scares but it was decent. The corn maze would've been more enjoyable had there been more actors and not just random customers jumping out of the corn. Maybe they can put some more space and time in between groups as well because we ended up catching the people in front of us within like 5 minutes. The hayride was ok, as well as the other 2 attractions. I think if they hired more people and not just teenagers people would pay more and it would be more thrilling.

Posted 9/29/13

3 out of 6 found this review helpful
All information on this page was submitted to New Jersey Haunted Houses and was believed to be accurate at the time it was posted. Please report any inaccuracies
here
.