Scare Farm at Norz Hill Farm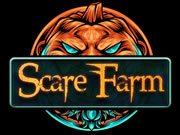 120 South Branch Road
Hillsborough, NJ
Scare Farm, formerly Creepy Hollow has three great haunts:
Creepy Hollow, a walk through haunted corn trail; Paranoia, also a walk through haunted corn trail and the Slay Ride a Haunted Hay Ride.
About the Attractions:
The Creepy Hollow story is one of the most complex and darkest parts of the whole Scare Farm history. Although it's been over a century since the Atrum family farmed this property the locals called Creepy Hollow, their evil legacy remains. Could it have been the pull of this dark land that changed something in them? Neighbors would say that the scarecrows were there for more than just scaring the crows away and you could always hear maniacal laughter through the red corn. So come and walk the same fields where 'Old Eli' grew and harvested his gruesome crop and "Live The Story…Or Die Trying."
The Slay Ride: Is it possible for a place to drive a person to madness and terror? While the concentration
of strange, twisted and tragic events continue in the darkness under the cold harvest moon, take a hayride at night and you will see the truth revealed. Once the sun goes down and the mask of this happy fall destination is stripped away, you will see Scare Farm as it truly exists. The terror is real, your nightmares can come to life and madness rules the land. So if you have ever thought about taking a haunted hayride during the Harvest Moon, climb aboard "The Slay Ride" and Fear the Ride!
Paranoia: Do you know the meaning of Paranoia? It is a thought process believed to be heavily influenced by
anxiety or fear, often to the point of irrationality and delusion. Paranoid thinking typically includes beliefs of conspiracy concerning a perceived threat towards oneself…e.g. "Everyone is out to get me." We will explore you deepest and darkest fears in this walk through the corn field that is planted on the sacred burial grounds! Do you know what really scares you? Well we do! And remember while you are in Paranoia "Everyone Really Is Out To Get You"
We also invite you to try The Corn Maze (non haunted attraction)
Hours of Operation:
Fridays & Saturdays 6:30-10pm Sundays 6:30-9 First people will enter haunt at 7 and go until everyone has gone through.
Admission Costs:
One (1) Haunt Attraction $20 Any Two (2) Haunt Attractions $30 Any Two (3) Haunt Attractions $35 VIP AccessVIP Access $60 per person Corn Maze $7 Combo with Corn Maze $40 Scare Farm is not able to control the weather and is very weather dependent. If it rains or the field conditions are poor due to excess precipitation earlier, we may have to close for the Safety of our customers & staff.
COVID-19
| | |
| --- | --- |
| | Some locations may have last minute updates due to changing circumstances. Please visit the attraction's website and/or social media before going to double-check that they are open. |
All photos and videos within this listing are the property of Scare Farm at Norz Hill Farm
Email Verified

CREEPY, SPOOKY, FUN - NORZ HILL SCARE FARM - DON'T MISS IT!!

Norz Hill Scare Farm has a haunting hay ride and corn maze trail Fridays, Saturdays and Sundays through October in celebration of the Halloween season. I went last night and it was truly a lot of fun! Great decor, frightening creatures, strange and spooky trails and lots of jumps. They have combined all three of their attractions into one this year - Two corn maze trails and a tractor/hay ride. (I may have won the record for the most screams!) I don't want to give anything away, but needless to say you just don't know where or when you will be face to face with....? You should go and check it out. You will NOT be disappointed. Best bang for your buck and worth every penny. I think beginning to end was about an hour. One of the longest haunt trails I have been through. Don't miss it!! Oh, and get your tickets online ASAP. Because of Covid rules space is limited. P.S. Extremely Covid SAFE. They built the masks into the monsters - yet another level of creepy!

| | |
| --- | --- |
| Scare Factor: | |
| Fun Factor: | |
| Haunt Value: | |

Posted October 2020

1 out of 1 found this review helpful

Email Verified

Terror filled corn stalks

A farm of scares!A farm of action!Scares were aplenty. Each were kept unique and we loved the adventure. Creepy hollow was the scariest. It was completely dark and eerie. There were too many scares planned around the place. The walk through the corn fields was another adventure. It was fun to wade through the terror filled corn stalks. The actors made it even more interesting. A fantatic Halloween celebration.

| | |
| --- | --- |
| Scare Factor: | |
| Fun Factor: | |
| Haunt Value: | |

Posted November 2019

Email Verified

Disappointed

It was such a disappointment!Unfortunatelywe didn't make it in because the line was ridiculously long. We waited for more than 2 hours and still there are a larege number of people in front of us. We tried to upgrade to vip but learned that we cant cancel the general tickets and there is no refund. never experienced something this awful.

| | |
| --- | --- |
| Scare Factor: | |
| Fun Factor: | |
| Haunt Value: | |

Posted November 2019

1 out of 2 found this review helpful

Email Verified

Loads of fun

Had loads of fun here. The slay ride was not too scary, but the heart pounding ending was awesome. Paranoia freaked me out. It had scary indoor like features and you just can't say when some creepy character jumps out in frnt of you. That anticipation itself kills u from inside. I think I screamed louder than my kids on couple of occasions. The walk along the super creepy cornfield path was a spooky experience. The tall corn stalks effectively hide the sets and props, and you won't realize until the terror strikes you. The parking was a disaster - but its handled well considereing the huge volume of patrons.Will be back next year for sure!

| | |
| --- | --- |
| Scare Factor: | |
| Fun Factor: | |
| Haunt Value: | |

Posted October 2019

Email Verified

Overpriced

Save yourself a big headache please. Had to crawl in spaces andnlots of physical activity…the only thing I liked is the slay ride…still there is nothing new in it….completely overpriced for the scares we get…do not spend the extra money on this.

| | |
| --- | --- |
| Scare Factor: | |
| Fun Factor: | |
| Haunt Value: | |

Posted October 2019

1 out of 3 found this review helpful

Email Verified

Fantabulous

Really enjoyed the spooky farm. Creepy sets, personalised set of animatronics, fog, and sound and lighting effects provided an immersive experience. Paranoia was the best among the lot. The set design was impressive with lots of details, and it was easy to make out the sets even in the dark. It involved physical activities such as crawling, side stepping and crouching down to do. So make sure that you're fit enough to do these. Corn maze amazed us. It was tough to find a way out. Challenges aplenty in the form of actors and props.Great place anyway

| | |
| --- | --- |
| Scare Factor: | |
| Fun Factor: | |
| Haunt Value: | |

Posted October 2019

Email Verified

Nerve wracking scares

absolutely love this place.Hayride was rightly called the slay ride. It has scares all through the ride.Creepy hollow also had some good scare moments. Walking through the tall corn, not knowing what lies ahead, was super creepy. Paranoia was like an obstacle course interspersed with nerve wracking scares. You got to do some amount of crouchiing and crawling in there.Can't wait to come again! :)

| | |
| --- | --- |
| Scare Factor: | |
| Fun Factor: | |
| Haunt Value: | |

Posted October 2019

Email Verified

Fear and paranoia

It was fear and paranoia everywhere. Loved the excitement. The hayride could stop your breath and it took us through the darkest corners. The scenes were neatly planned and they had the best themes that evoked our curiosity. It was a great evening spent in paranoia. Actors knew how to scare us. And, they mostly succeeded. Cool effects all over the place. It added to the fear. Most of us were screaming through the haunts. It was funny to think of!

| | |
| --- | --- |
| Scare Factor: | |
| Fun Factor: | |
| Haunt Value: | |

Posted October 2019

Email Verified

Scaryyyyy fun

Scaryyyyy fun. Many were screaming their lungs out and that actually increased our anticipation. It indeed was scream worthy. The actions and scenes were gory and it was blood curdling to think of and you may never have imagined that. Hayride was eventful and the atmosphere was electrifying with horror. It was not the usual kind. Animatronics did wonders to the effect. There were vicious scenes that formed the storyline. Loved the creepy hollow. Looking forward to next year!

| | |
| --- | --- |
| Scare Factor: | |
| Fun Factor: | |
| Haunt Value: | |

Posted October 2019

Lively n creepy

Enjoyed my time. The whole setting comprising of scary animatronics, props, sound and lighting effects and creepy sets will fraek you out. Creepy hollow was my pick in terms of scare index. The stroll along the corn field in the dark was super creepy. Few of the jump scares shook us badly. The wail of the clown girl was the most twisting thing to hear. It just doesn't leave your ears even after your exit. The set design was impressive to say the least. Slay ride, might not interest adults….it is more suited for children.

| | |
| --- | --- |
| Scare Factor: | |
| Fun Factor: | |
| Haunt Value: | |

Posted October 2019

Unlimited fun at scare farms

It was never ending unlimited fun at scare farms. They had organized a beautiful farm with enough scares that will make you run and jump. It was good to find ourselves amidst scary monsters and beasts. We were there two years in a row and found it quite amusing. There was a good set of actors who entertained us from the very beginning. It was never boring and had all events planned very well. The scares were mostly the popup variety and you are definitely going to a great scared.

| | |
| --- | --- |
| Scare Factor: | |
| Fun Factor: | |
| Haunt Value: | |

Posted April 2019

Email Verified

Terror personified

A scenic farm that is also terror personified. It is a great way to spend your time with family. The scenes were detailed and used the theme if a farm. There was ample space used to its advantage. The actors made sure there was something happening at every corner. They had the best of intentions to scare us and they quite succeed.

| | |
| --- | --- |
| Scare Factor: | |
| Fun Factor: | |
| Haunt Value: | |

Posted February 2019

Scary fun for all

This was the absolute best haunted experience that I have ever had. Definitely a must on your to do list during October. Scary fun for everyone!

| | |
| --- | --- |
| Scare Factor: | |
| Fun Factor: | |
| Haunt Value: | |

Posted November 2018

View all Scare Farm at Norz Hill Farm Reviews
Scare Farm at Norz Hill Farm
All information on this page was submitted to New Jersey Haunted Houses and was believed to be accurate at the time it was posted. Please report any inaccuracies
here
.