Scare Farm at Norz Hill Farm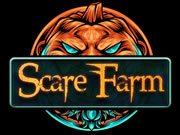 120 South Branch Road
Hillsborough, NJ
Scare Farm, formerly Creepy Hollow has three great haunts:
Creepy Hollow, a walk through haunted corn trail; Paranoia, also a walk through haunted corn trail and the Slay Ride a Haunted Hay Ride.
About the Attractions:
The Creepy Hollow story is one of the most complex and darkest parts of the whole Scare Farm history. Although it's been over a century since the Atrum family farmed this property the locals called Creepy Hollow, their evil legacy remains. Could it have been the pull of this dark land that changed something in them? Neighbors would say that the scarecrows were there for more than just scaring the crows away and you could always hear maniacal laughter through the red corn. So come and walk the same fields where 'Old Eli' grew and harvested his gruesome crop and "Live The Story…Or Die Trying."
The Slay Ride: Is it possible for a place to drive a person to madness and terror? While the concentration
of strange, twisted and tragic events continue in the darkness under the cold harvest moon, take a hayride at night and you will see the truth revealed. Once the sun goes down and the mask of this happy fall destination is stripped away, you will see Scare Farm as it truly exists. The terror is real, your nightmares can come to life and madness rules the land. So if you have ever thought about taking a haunted hayride during the Harvest Moon, climb aboard "The Slay Ride" and Fear the Ride!
Paranoia: Do you know the meaning of Paranoia? It is a thought process believed to be heavily influenced by
anxiety or fear, often to the point of irrationality and delusion. Paranoid thinking typically includes beliefs of conspiracy concerning a perceived threat towards oneself…e.g. "Everyone is out to get me." We will explore you deepest and darkest fears in this walk through the corn field that is planted on the sacred burial grounds! Do you know what really scares you? Well we do! And remember while you are in Paranoia "Everyone Really Is Out To Get You"
We also invite you to try The Corn Maze (non haunted attraction)
Email Haunt Owner
All photos and videos within this listing are the property of Scare Farm at Norz Hill Farm
Not Worth the drive or Money

This Haunt i went two years in a row thinking it may have been a bad day i went but no it was the most boring haunt ive been to.. Bring children of all ages for a hayride thats not scary and dont even waste your time on the trails.. the scariest part of the hayride was the smell of the livestock they made us go through and the scariest part of the trails was how dark some parts were.. definitely not worth the money or the gas wasted to get there

| | |
| --- | --- |
| Scare Factor: | |
| Fun Factor: | |
| Haunt Value: | |

Posted September 2018

Small farm with not so scary rides

Maybe they should take off the 'Scare' word from the 'Scare Farm' title. It's just a small farm with some rides and walkthroughs, not at all scary. Some kids may find it okay, for the rest it might be boring enough. It's high time they create something different and unique than the usual jump scares and ghost trails.

| | |
| --- | --- |
| Scare Factor: | |
| Fun Factor: | |
| Haunt Value: | |

Posted November 2017

Ideal for families

Beautiful place, ideal for kids and teenagers. All the three attractions were fair and good, with the right amount of frights and shocks coming up at the right time. The cast and crew were quite careful enough not to go over the top. The location is neat and tidily maintained, perfect for a Halloween outing.

| | |
| --- | --- |
| Scare Factor: | |
| Fun Factor: | |
| Haunt Value: | |

Posted November 2017

Email Verified

Quite long and scary

Scare Farm has a different chunk of horrifying attractions for us… counting a few are Paranoia, The Seay Ride and Creepy Halloween. Especially the Paranoia made us feel like we were in a different world. My daughter was screaming a lot and her elder brother was curious for this Halloween experience. Our family day was awesome at Scare Farm. Deadly characters were jumping from here and there. The Seay Ride was quite long and tempting. My kids were shouting once more… once more.

| | |
| --- | --- |
| Scare Factor: | |
| Fun Factor: | |
| Haunt Value: | |

Posted November 2017

Email Verified

Unexpected twists of horror

Wonderful!!! Yes, come and feel the pleasure of horror. I recently went there with my best friend, Kim. All themes were very attractive to involve you in this imaginary world. The creepy ghosts jumping from mysterious corners made us run for our life. It was the first Halloween visit for Kim and he was looking damn terrified. However, I was enjoying all the unexpected twists of horror and his company too!!! Best scary experience of my life happened that day.

| | |
| --- | --- |
| Scare Factor: | |
| Fun Factor: | |
| Haunt Value: | |

Posted November 2017

Waste of time

Creepy hallow was the worst as crawling and steep sloping was designed without any synchronization. A complete waste of money and valuable time. Not recommended!!

| | |
| --- | --- |
| Scare Factor: | |
| Fun Factor: | |
| Haunt Value: | |

Posted November 2017

Stay away

Hayride was lame and other attractions were lacking in number of actors. All the special effects and animatronics were childish in nature and we only liked the crawling and tight spaces in some areas. Stay away and far away from Scare Farm.

| | |
| --- | --- |
| Scare Factor: | |
| Fun Factor: | |
| Haunt Value: | |

Posted November 2017

Email Verified

Fantastic characters and visuals

I was so much depressed at the end of last year, so my husband planned to enjoy this scary fun at Scare Farm… It really worked well, and I rejuvenate my life energy… the farm is full of magnetic vibes. Extraordinary props and fascinating creepy actors made us horrified. All my negativity surpassed by the fun we had there. Paranoia and Seay Ride impressed me and my hubby both… It is a must recommended place to have scary fun.

| | |
| --- | --- |
| Scare Factor: | |
| Fun Factor: | |
| Haunt Value: | |

Posted October 2017

Email Verified

Loved the twists and surprises

Creepy Hollow at Scare Farm was indeed one of the creepiest walkthroughs we have ever done. Loved the twists and surprises. The other two attractions were fine too, especially the Paranoia adventure. Very much impressed, both with the place and the workers there. Will definitely come back.

| | |
| --- | --- |
| Scare Factor: | |
| Fun Factor: | |
| Haunt Value: | |

Posted October 2017

Email Verified

Very scary set design

Fantastic outdoor event. All actors are superb and they scared us a lot. Very scary set design and ample areas for a walk in the wood for a reasonable cost. If you are looking for a great horror time, this place won't disappoint.

| | |
| --- | --- |
| Scare Factor: | |
| Fun Factor: | |
| Haunt Value: | |

Posted October 2017

Email Verified

Wasn't scary, average

We went to Scare Farm and it turned out to be an average haunt. Hayride was the worst as it was like repetition in the corn field but we were on the ride and the only good thing was a clown scene that happened for merely 2 to 3 minutes. It wasn't scary at all.

| | |
| --- | --- |
| Scare Factor: | |
| Fun Factor: | |
| Haunt Value: | |

Posted October 2017

scaryyy!

i tried haunt last night (oct 30) snd let me tell you for me it was te scariest one i've been too! Totally worth the money and I would not bring a child under 12 to this. The hayride was pretty scary. Creep Hollow by far is the scariest! i ran, screamed, was startled. it's not for the faint of heart. the third event is Paranoia. Depending on what you find creepy or what scares you, you may/may not find this walk scary.

| | |
| --- | --- |
| Scare Factor: | |
| Fun Factor: | |
| Haunt Value: | |

Posted October 2015

4 out of 5 found this review helpful

Ah-mazing!

My friends and I had such a fun time at scare farm that we're planning on turning this to an annual Halloween event. The corn maze was one mile long and it literally gave me a run for my money because my friends told one of the zombie clowns to chase me with a fake chain saw LOL. It was hysterical and so much fun; I cannot wait to go back next year. The people who worked there were so courteous and professional. My other friend lost her keys on the hay ride but one of the workers took the time to find them and return it to them at the end of our corn maze adventure. I give this place two thumbs up : )

Posted October 2014

6 out of 8 found this review helpful

A fantastic experience

All in all, scare farms was a huge success. You definitely have to purchase all three attractions if you want to get the full experience. The forty minute drive there was worth the trip, because this place provided us with close to two hours of fear. The corn maze walks were definitely my favorite. My friends and I were in a constant fight to be in the middle of the pack lol

Posted October 2014

6 out of 8 found this review helpful

Even better than last year!!!

Wow! They stepped up their game this year! Last year they were good, but I thought they did a much better job with their "Slayride" hay ride this year, and my GOD!!! PARANOIA is terrifying!!! I guess they are really becoming a great haunt! I LOVED it! Would love to see more creepers in their graveyard while waiting in line, but their new old-fashioned horse drawn hearse looked AMAZING!!! Now all they need are more ZOMBIES!!! If last year and this year are any sign of things to come, I CANT WAIT TO SEE what sick and twisted things they come up with next year!!!

Posted October 2014

4 out of 6 found this review helpful

Great Scare!

This has been one of the best scary attractions I have been to. Definitely a hidden treasure. I've been to fright fest and the eastern state penitentiary. Those were more expensive and less exciting. I went to the 3 scary attractions. The lines weren't that long and you get your money's worth. $28 for all 3. They also had food and pumpkin picking for families which is good. The rides were also lasting, unlike some scary rides that you stand in line for hours and its over in 30 seconds. I loved it and will probably be back next year :D

Posted October 2013

2 out of 2 found this review helpful

Far more than expected

Went here last night, Scare Farm isn't some kiddy haunted house despite the family friendly events hosted during the day. There is 3 events to choose from plus a rather large corn maze to explore. Additionally food is served on site plus a the shop that has various locally grown and made products for sale as well. The 3 main attractions are Slay Ride, Paranoia, and Creepy Hollow. Slay Ride is a haunted hay ride but unlike other hay rides has its own twist that makes it totally worth your while. Creepy Hollow and Paranoia are both haunted trails though the corn. Would recommend this to anyone looking for a fun haunt without the 2 hour lines you find at some bigger events.

Posted October 2013

2 out of 2 found this review helpful

GREAT HAUNTED FUN!

For the price & the drive, this farm was worth it! We went thru all 3 attractions- Paranoia (acorn maze walk), Slay Ride (a tractor ride thru the property with scary stops along the way) & Creepy Hollow (another corn maze walk, which was THE BEST). All Iin all, a really fun time & coconcessions to boot!! Keep it up Scare Farmers!! Stephanie & Vinny

Posted October 2013

0 out of 3 found this review helpful

Great time for all ages!

Had an awesome time here over the weekend! A must-go for all locals! (and non-locals, too!) The Paranoia Maze was the best part!

Posted October 2013

2 out of 3 found this review helpful

haunted trail was well done!

Posted July 2013

1 out of 2 found this review helpful

View all Scare Farm at Norz Hill Farm Reviews
All information on this page was submitted to New Jersey Haunted Houses and was believed to be accurate at the time it was posted. Please report any inaccuracies
here
.