Nightmare At Gravity Hill - Cicconi Farms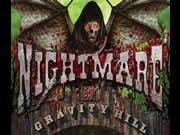 1005 Farmingdale Rd.
Jackson, NJ
Have you heard of the tale of Gravity Hill in Jackson?
There's a road where if you stop your car, shift it in neutral, the car will mysteriously be pushed up hill by an unknown force. The story behind Gravity Hill goes back into Jackson's dark past, from a time when Jackson's number one tourism draw was the countless acres of wooded forest and secluded fields frequented by New York and North Jersey's mafia kingpins of the forties and fifties. You see, back then, Jackson was a notorious drop off point for those who had "conflicts of interest" with organized crime syndicates. Those who owed money earned a one way ticket to the Pine Barrens.
Another story of Gravity Hill revolves around a young girl being brutally murdered in the 19th century in a home near Gravity Hill which is adjacent to Cicconi Farms. Why does your car mysteriously get pushed up hill? Some say that the ghost of the girl's father pushes cars up the hill to take them away from the danger where his daughter was brutally murdered. Some people even say that if you sprinkle baby powder on the trunk of your car, when you get to the top of Gravity Hill, you will see hand prints in the dust.
The story of Gravity Hill actually goes back much further and rises from the dead as one of New Jersey's largest terror walks. This is no hayride and is not for the faint of heart. The walk brings visitors close and personal with the Haunted past. Dare to step through the village Gates at Gravity Hill you will be Terrorized by an army of Ghouls, Zombies and the Macabre.
You Can't Wake From This Nightmare!
This is definitely not a hayride!
Email Haunt Owner
2017 Schedule
September
Su
M
Tu
W
Th
F
Sa
1
2
3
4
5
6
7
8
9
10
11
12
13
14
15
16
17
18
19
20
21
22
23
24
25
26
27
28
29
30
October
Su
M
Tu
W
Th
F
Sa
1
2
3
4
5
6
7
8
9
10
11
12
13
14
15
16
17
18
19
20
21
22
23
24
25
26
27
28
29
30
31
November
Su
M
Tu
W
Th
F
Sa
1
2
3
4
5
6
7
8
9
10
11
12
13
14
15
16
17
18
19
20
21
22
23
24
25
26
27
28
29
30
Hours of Operation: Please check our social media or website for hours of operation.
Admission Costs: General Admission: $23
VIP Express Pass: $33

Cash only- ATM onsite for your convenience.
Payments Accepted: Cash
- event open dates
Event last updated 28 days ago. Please confirm dates on
haunt website
before you go.
All photos and videos within this listing are the property of Nightmare At Gravity Hill - Cicconi Farms
Email Verified

NJ's Best scare and most fun

Year after year this is by far the most fun and scariest haunt for the family. It's a great value and I definitely recommend you visit Nightmare at Gravity Hill.

| | |
| --- | --- |
| Scare Factor: | |
| Fun Factor: | |
| Haunt Value: | |

Posted 7/14/17

1 out of 1 found this review helpful

Email Verified

Fun but not scary

This was fun but not scary. To set the mood better, people working there should have dressed up. Even a wig, or mask would have set the stage. Instead I felt like I was purchasing a ticket at a typical consession stand. Even the parking attendants and ticket collector should be dressed to feel like it's a Halloween event. A lot of "BOO" tactics used to scare people and I don't scare easily that way. It was very dark so when the "scare" people were trying to scare the group, you couldn't see them, or their makeup, and I appreciate good makeup. They could have simply held flashlights under their chin or had strobe lights. There should have been random scary people wondering while people are waiting the 1+ hours to get into the place. I guess it's too easy to pop a video movie in and press play. Fun, since I was with good company but I won't be back.

Scare Factor:
Fun Factor:
Haunt Value:
Length of Event:
31-45 minutes
Time Visited:
After 9PM
Would Recommend:
No
Suitable For Kids:
Yes

Posted 10/24/16

2 out of 5 found this review helpful

Email Verified

Scary Fun!

Actors are great! Bring a friend that gets spooked easy and you will have a blast. There is something around every corner!

| | |
| --- | --- |
| Scare Factor: | |
| Fun Factor: | |
| Haunt Value: | |

Posted 10/21/16

1 out of 1 found this review helpful

Great haunted trail

The haunted trail was great, they put a lot into it so many different attractions in one. My only complaint would be not enough actors it could of been that it was only second weekend they were open but if they did have more people it would of been the best I've been to.

| | |
| --- | --- |
| Scare Factor: | |
| Fun Factor: | |
| Haunt Value: | |

Posted 10/1/16

1 out of 1 found this review helpful

good haunt

This is my second year attending this haunt, and overall doesn't disappoint. It's really well done for a local haunt and lines do get long. So I suggest getting their around 6:45 - 7:00pm because after that lines grow tremendously, or get a fast pass for 30 bucks. This haunt does a good job at scaring me, however the only thing I think they should improve on. Is having more detailed sets, and light on some parts of the walk through because I couldn't really see the detail on the some of the scences. And having more actors, because there was times that I would walk and there would no actors.. I enjoyed the mental hospital scence and jail scence. I would to see both scences expanded next year. That would awesome. nice local haunt, can't wait what you guys have planned for next year.

Scare Factor:
Fun Factor:
Haunt Value:
Length of Event:
21-30 minutes
Time Visited:
5PM - 9PM
Would Recommend:
Yes
Suitable For Kids:
No

Posted 10/28/15

The best haunted trail I've been to in years.

My girlfriend and I checked this place out last year not knowing if it .was gonna be any good or even worth the $20 and it was definitely worth it. I love a haunted trail that can make me scream..this year we took some other people with us to show them how great this haunted trail was. It was even better then last year. You guys definitely scared me this time and we will be back next year with a group of people..I would recommend anyone looking for a good scare then come to nightmare at gravity hill it is well worth the money and the wait. Thanks for the scare and we will see you guys again next year.

| | |
| --- | --- |
| Scare Factor: | |
| Fun Factor: | |
| Haunt Value: | |

Posted 10/18/15

1 out of 1 found this review helpful

Great Value, Great Haunt!!

Been to a number of haunted attractions over the last five years, you guys definitely didn't dissappoint, incredible value for $20 and very local, some incredible set pieces and animatronics. The grim reaper and mummy monster were jaw dropping! Also, the best damn meatball sub I've had in ages!! Excellent time, will definitely recommend you. ????????????

| | |
| --- | --- |
| Scare Factor: | |
| Fun Factor: | |
| Haunt Value: | |

Posted 10/17/15

1 out of 1 found this review helpful

Hands down the best haunt I ever been to

This place is off the hook .im so going back

| | |
| --- | --- |
| Scare Factor: | |
| Fun Factor: | |
| Haunt Value: | |

Posted 10/11/15

40 walk trail! Worth the money

Went last year with a couple of friends, mother and siblings and the first thing is that the drive to the place is a bit scary because yo drive through a road that has no lights, it's pitch black and you can't see anything! But anyways. The lines were long and we got a fast pass, but it was deff worth the 30 bucks I paid. Really scary, deff was better than I expected.

| | |
| --- | --- |
| Scare Factor: | |
| Fun Factor: | |
| Haunt Value: | |

Posted 9/12/15

3 out of 4 found this review helpful

expect the unexpected

My boyfriend and I just went to Gravity Hill for the first time. The line was pretty long so we got the express pass for $10 extra. I highly recommend getting the express pass because it is worth it and you don't have to wait! It took about 40 minutes to walk through, it was by far the best attraction we have ever been to. You never know what is coming next, i wouldn't bring any kids under the age of 13. At the end we actually met the owner and he was interested in our opinion, great guy. I highly recommend it!!!!!! We will be back next year for sure.

Posted 10/26/14

5 out of 5 found this review helpful

Very Scary!!!

We went last night and it was awesome. The line to wait was long but they showed movies while we waited. The walk through was really good and extremely scary. Would definitely go back!!

Posted 10/26/14

3 out of 3 found this review helpful

Great Haunt

Loved the haunt. Very Scary

Posted 10/24/14

2 out of 2 found this review helpful

nice job

I have been hearing about Nightmare at Gravityhill from a lot of my friends this Fall. I LOVE anything haunted and figured I needed to give it a try, My Husband and I went last Sunday, we were blown away!! I recommend everyone try this haunt, you will not be disappointed.

Posted 10/23/14

2 out of 2 found this review helpful

One of the best, very scary

My girlfriend and i went on saturday with a group of friends, the line was pretty long when we got there at 8, but it got longer as the night went on, it was ok though, they had a scary movie playing, lots of great food as well. once we got in-it got even better, each scene got scarier and scarier, the scenes were realy cool, and the actors were very intense, we left in a sweat. We will be back again next week.

Posted 10/22/14

2 out of 2 found this review helpful

if this is best..id hate to see worst.

The cheesy gardening felt walls made it seem like a highschool production.we waited in a long line and expected it was cause they have to space out the groups.Well about halfway in people were in front and in back of us.It felt like a fieldtrip. Instead of a haunted trail.Will not be returning any time soon.

Posted 10/19/14

0 out of 5 found this review helpful

So much better then expected!!

At first I didn't expect this to be that great..wow I was wrong. I came out with my two friends with pounding headaches from running and screaming so much(in a good way). The scenes were so amazing with detail, props, decor..very well done, I APPRECIATE THAT IT WAS DECENTLY LONG. It wasn't short which some can be which is a rip off, this was perfectly lengthly with the amount of different 'scenes'..I loved how it was different and changed to new scenes so you didn't expect what's next - Actors were so into it! Deff check this haunt out for a fun night!

Posted 10/11/14

1 out of 1 found this review helpful

You're missing out if you don't attend this haunt!

Nightmare at Gravity Hill is easily the most rewarding haunt I've been to. I didn't know what to expect at first but the second I walked through the gate I felt my heart drop to my toes and I was wondering what I got myself into. I wish I would've went sooner because I can't believe how entertaining and scary this haunt truly was. 10/10!!

Posted 9/21/14

Amazing sets and actors! Scary fun time! Yound adult and older

I happily compare this to Universal Studios Haunted Houses!! The amount of sets and themes that Gravity Hill set up is amazing. From a western town, to a graveyard, to a 3D barn! Crazy toxic farmers, an Egyptian pyramid and my favorite a body farm! No expense spared! The actors were high energy and caught us a few times! Easily my favorite attraction this year.

Posted 10/31/13

1 out of 1 found this review helpful

Was Pleasantly Surprised!

Staff and set design was comparable to that of Universal Studios' House of Horrors. Staff make-up and costumes were impeccable and high-energy. Not only that, they were extremely unpredictable, I never get scared at these things, but they got me three times. This is not for the squeamish nor for those younger than 13 years of age. It was great and who puts an entire pyramid in the middle of the maze? Awesome and highly recommended. I definitely recommend this over either Casola Farms and Corner of Terror. Very happy with the 3-D farmhouse and Wild West beginning.

Posted 10/26/13

2 out of 2 found this review helpful

I went through with my friends this past weekend and it was amazing! I've never experienced something so scary in my whole entire life! I would definantly reccomand goin here. Their scenes and actors are phenomenal, I almost peed myself multiple times. You can tell they put in hard work and dedication by the little details. I will defiantly be returning this weekend! Fantastic job guys!

Posted 10/24/12

1 out of 1 found this review helpful
All information on this page was submitted to New Jersey Haunted Houses and was believed to be accurate at the time it was posted. Please report any inaccuracies
here
.