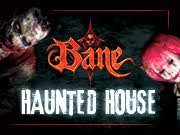 630 W Mount Pleasant Ave
Livingston, NJ
Details
Average Review

Scare Factor

Very Scary

Appropriate For

Bane is rated as a PG-13 attraction therefore our event is recommended for children 13 and up. Anyone under the age of 12 must be accompanied by an adult.

Organization Type

Commercial / For Profit

Listing Categories

Haunted Houses, Zombie Hunts & Shootouts, Escape Games, Not-So-Scary Haunted Houses (Kid Friendly), Kids Parties, Safe Trick or Treating, Other Events

More Info

Wheelchair Accessible, Snacks & Refreshments, Indoor Event(s), Covered Wait Area, Touching Allowed, Free Parking
TEST YOUR BOUNDARIES OF FEAR!!!
Looking for the scare of your life? Do you want to have an adrenaline rush unlike any other? Then come and test your boundaries of fear at BANE, NJ's scariest and most interactive haunted attraction. We are now proud to announce that BANE will be located in the old Katherine Gibbs College on Route 10 West in Livingston NJ! BANE has expanded from 17,000 square feet to a brand spanking new 40,000 square foot space and we're bringing the heat! Get ready for a brand new, crazier, scarier, and even more interactive haunted attraction that is guaranteed to knock your socks off!!!
But beware as you enter for little Jennifer Bane is awaiting your arrival... and...... she's HUNGRY!!!!
Deemed "The Scariest Haunted House in New Jersey" by The Star-Ledger, Bane Haunted House is entirely interactive. All of our spooks and scares come from live actors; there are no animatronics or stock experiences. In fact, each and every visit to our Livingston, NJ haunted house will yield a different result!
THE EXPERIENCE
Haunted house visitors are brought through the house in very small groups to allow for an up close and personal experience. Our actors will come into contact with you at points, but you are in no danger of being harmed.
Email Haunt Owner
Zombie Apocalypse - like shooting zomibes? Get fitted with a life like M4 laser gun and get ready to take on the zombie horde.
Happily Haunted – 3pm-5pm only. $8
Children 12 and under must be accompanied by an adult will receive a flashlight guided tour through the attraction. There are no Zombies in the house during this time.
2017 Schedule
September
Su
M
Tu
W
Th
F
Sa
1
2
3
4
5
6
7
8
9
10
11
12
13
14
15
16
17
18
19
20
21
22
23
24
25
26
27
28
29
30
October
Su
M
Tu
W
Th
F
Sa
1
2
3
4
5
6
7
8
9
10
11
12
13
14
15
16
17
18
19
20
21
22
23
24
25
26
27
28
29
30
31
November
Su
M
Tu
W
Th
F
Sa
1
2
3
4
5
6
7
8
9
10
11
12
13
14
15
16
17
18
19
20
21
22
23
24
25
26
27
28
29
30
Hours of Operation: 7pm-closing
Admission Costs: 28 for general admission
48 for VIP
Payments Accepted: Cash, Credit Cards
- event open dates
Event last updated 25 days ago. Please confirm dates on
haunt website
before you go.
All photos and videos within this listing are the property of BANE Haunted Attraction
Make a right onto Okner Parkway and we are the second driveway on the left.
Thursday Fright Fest at Bane

Okay if you never been to Bane Haunted House you have to go. It is a unique haunted house experience. I went on a date and it was so much fun. It was not the scariest but most entertaining 40 minutes. Without giving too much you will go through an adventure like no other, I felt like I was Alice in Wonderland. It was so perfectly planned out that every turn is an eye opening experience. *WARNING IF YOU DON'T LIKE BEING TOUCHED CLAUSTROPHOBIC OR BEING ALONE, DO NOT GO*

| | |
| --- | --- |
| Scare Factor: | |
| Fun Factor: | |
| Haunt Value: | |

Posted 10/14/16

3 out of 3 found this review helpful

Keep up the good job!

Went to Bane and they really stepped up their game from last year! it was so much more intense and they added a little more props and paid a little more attention to detail in the rooms so that was great! This haunt is unlike your normal haunted attraction, they will mess with y our mind! so watch out.. and be prepared to be separated! Kudos to that "Creepy Clown" who scared the crap outta me! lol

| | |
| --- | --- |
| Scare Factor: | |
| Fun Factor: | |
| Haunt Value: | |

Posted 10/31/15

7 out of 7 found this review helpful

The best haunted house Ever!

This was absolutely THE Best haunted house I have been to. There were lots of surprises that I was not expecting. There is a scare factor throughout each hallway and room you enter that will surely have you jumping. This haunted house will not disappoint you. I definitely will be back next year!!

| | |
| --- | --- |
| Scare Factor: | |
| Fun Factor: | |
| Haunt Value: | |

Posted 10/3/15

14 out of 15 found this review helpful

best walkthrough in the northeast thus far

In the tradition of old shool haunted houses from the 80s this haunt is by far the best ive been in so far. I love the fact that its indoors so rain or shine ur in. Cant wait to try out the zombie apocolypse laser tag. Good job guys loved the props by the way. Ill give away just one detail prepare to get separated. Highly recommend to check it out.

| | |
| --- | --- |
| Scare Factor: | |
| Fun Factor: | |
| Haunt Value: | |

Posted 10/3/15

9 out of 10 found this review helpful

Zombie Apocalypse

Went to their zombie apocalypse in March, it was very cool. You get to shoot their zombies with laser guns and its scored. Its like gears of war in real life. Very awesome, will definitely be back for the Black Ops mission.

Posted 4/14/15

5 out of 6 found this review helpful

pleasantly surprised

I thought this place was going to be cheesy when we arrived but honestly it was pretty darn good. People said they had their glowsticks taken away but that didn't happen to our group. I kinda wished it did because my girl would've flipped. But yeah this place was really good Def going back.

Posted 11/6/14

7 out of 7 found this review helpful

Great Job

Went for lights out night, it was great. They really mean lights out, it was dark but we loved it. My Glowstick was taken from me but they didn't take my boyfriends. I thought that part made it even more scary. It was definitely longer than most haunted houses. Looking forward to coming back! Great job.

Posted 11/6/14

9 out of 9 found this review helpful

love it!!

I went last night to Bane and I had one of the best experiences there! I went with my uncle and we spent a little while together before we were separated by the boxes. We did meet up right after going through them and then we were re-separated by one other obstacle and finally met up again in the church, although he was called to go through the portal first and I waited in the church to be called for what felt as though forever. That sort of bothered me; he was out of the haunted house around 20 minutes before me. I managed to make the best out of that part though by interacting with the actors and I found it pretty amusing. If you seem friendly and starting talking normally to them they will give you a ton of sass, hence what happened to me haha. You do have to be careful about not accidentally going thru the wrong door out of the attraction, which happened to me once but I was let back into the house by one of the workers and another actor led me the right way. Honestly, this was one of the best haunted houses I've been too and I regret going so late in the season! Definitely going back next year. Multiple times.

Posted 11/2/14

17 out of 18 found this review helpful

Fun to die for

Was the most absolutely amazing Haunted anything I have ever been to in my life!! Job well done to everyone involved in making it happen!

Posted 11/1/14

5 out of 6 found this review helpful

scary thieves

The haunted house was put together really well, the scenery was definitely the best part. The actors were good with the exception of a few who seemed to hate their jobs and were just plain boring and rude. Don't buy the glowsticks, they charge you for them and then the actors take them right out of your hands and do not give them back. Personally I don't think they should charge you for something they don't let you keep. For all the money they're making, they sure are being cheap. It was fun, but not as scary as I thought it would be. I wouldn't recommend it to my friends or go back.

Posted 11/1/14

4 out of 13 found this review helpful

had alot of fun

it was one of the best haunted houses I have been to in a while. the two complaints I had was the fact that the makeup was poorly done and when some girl yelled mercy they would not let her go. DO NOT GO IF YOU HAVE SEPERATION ANXIETY,A FEAR OF TIGHT SPACES, AND IF YOU ARE RELIGOUS(YOU'LL SEE WHAT I MEAN.)

Posted 11/1/14

4 out of 9 found this review helpful

OK

I was very very very scared while waiting in line for this attraction. I heard the screams and yelps of the people inside the attraction and I was ready to quit. one complaint I had was the line was too damn long. I was waiting there for like 2 hours. in the haunted house their are a lot of pop up scares that I got used to after a while. at first I was scared but when I looked closely at the people in the haunted house the makeup looked really bad. they didn't put much effort into it. if you don't want to be separated don't go in. you get separated 3 times throughout the attraction. You also might be offended during the satanic church service if you are very religious. I did not find this that scary because of the bad makeup but the separation and small spaces really got me. if was a great haunted house (my first one) and I recommend it

Posted 11/1/14

4 out of 9 found this review helpful

OMG THE BEST EVA

Bane is the best haunted house ever! SOOOOOO SCARY!!!!!!

Posted 11/1/14

4 out of 5 found this review helpful

Very Scary!

You will be separated from your friends if you come in a group of three. It was really scary but it was a fun experience for my friends and I. You will be scared if you go, just saying.

Posted 11/1/14

4 out of 4 found this review helpful

So scary it has to be illegal

This place is freaking awesome like I loved it I came out crying. Even the toughest people will pee on theirselves. The actors are amazing

Posted 11/1/14

3 out of 3 found this review helpful

Awesome

Second time I went to Bane and it was 10 times more scary than the first time I went.

Posted 10/30/14

3 out of 4 found this review helpful

best haunt

drove from poconos! we have nothing like this up there. was scared to death. my family loved it!

Posted 10/28/14

2 out of 3 found this review helpful

Freakin' scary as hell....

Awesome. Totally Awesome. Do not bring the faint of heart. I watched a few people have panic attacks & leave the bldg. They will escort you out if its to much for you. Last night (Sund) there were long lines for a Sund. so be patient as only 2 go at a time but worth waiting for. The actors are awesome. Scary as hell. The girl in room with all the pipes last night scared the living hello out of me. Awesome scare & awesome time....

Posted 10/27/14

5 out of 5 found this review helpful

Scary Scary Scary.... Worth the wait

Looong lines but worth the wait. It is an awesome place. Do not try to take pictures. Your phone will be taken away. One of the rules. Follow them all if you know what's good for you. Actors are awesome. Last night the girl in boiler room scared the living hell out of me & then followed me up ramp & stayed in character the whole time. She got me good. Great scare. Well worth it!! :-)

Posted 10/27/14

4 out of 5 found this review helpful

I kept losing my balance

Ok we went last night the line was long but I had a great time I kept fallin lol the guy @ the end yelled at me and all I know I was on the floor lol the clowns were funny is hell my daughter said mercy when we was in the church lol I had fun will tell all my friends good for Halloween

Posted 10/26/14

6 out of 9 found this review helpful

View all BANE Haunted Attraction Reviews
All information on this page was submitted to New Jersey Haunted Houses and was believed to be accurate at the time it was posted. Please report any inaccuracies
here
.