Bamboo Gardens Walk of Fear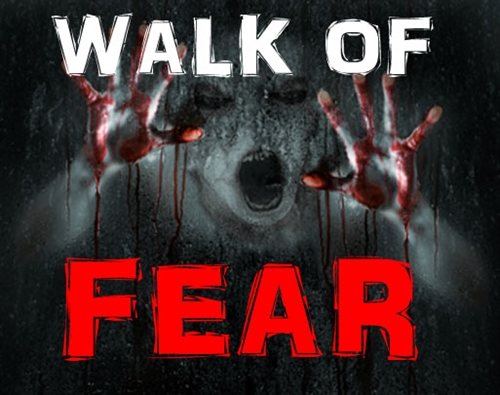 134 Landing Street
Vincentown, NJ
New Jerseys only Haunted Bamboo Forest!

Prepare for the walk of your life and experience the fright as you descend into a twisted maze of Bamboo Horror. Feel the Fear. It's like being in a Horror flick. The fear is real. A night of unimaginable Terror that will haunt your dreams for weeks to come..Scream your way through Bubbas playground. Take on the Asylum, Roam the Bone Yard, Escape Blood Beach before the grave diggers drag you into the abyss, Enter the Black Hole, Zombies in search of fresh meat, Strobes, Foggers, FX lighting and loud scary music through out the entire haunt. Better take your meds and pack some fresh undies before you come to this haunt.
2016 Schedule
September
Su
M
Tu
W
Th
F
Sa
1
2
3
4
5
6
7
8
9
10
11
12
13
14
15
16
17
18
19
20
21
22
23
24
25
26
27
28
29
30
October
Su
M
Tu
W
Th
F
Sa
1
2
3
4
5
6
7
8
9
10
11
12
13
14
15
16
17
18
19
20
21
22
23
24
25
26
27
28
29
30
31
November
Su
M
Tu
W
Th
F
Sa
1
2
3
4
5
6
7
8
9
10
11
12
13
14
15
16
17
18
19
20
21
22
23
24
25
26
27
28
29
30
Hours of Operation: Friday & Saturday: 7pm - 10pm
Sunday: 7pm - 9pm
Admission Costs: $25 for entry to all three attractions
Payments Accepted: Cash, Credit Cards, Debit Cards
- event open dates
Event last updated 9 days ago. Please confirm dates on
haunt website
before you go.
All photos and videos within this listing are the property of Bamboo Gardens Walk of Fear
20 Minutes from center city Philadelphia. Just off route 38
amazing

had a blast; highly suggest it

Posted 10/28/14

2 out of 2 found this review helpful

The BEST one ive been to yet!!!!!

The price was great for admisssion to start with. Blood Beach was GREAT!! Everything was great. Was very fun and scary. It felt eerie being in the dark. And people come after you from out of no where. I really like the person who was crawling on the ground after me and stuck behind me for awhile. The asylum was amazing and the sick victims were great. The clown was scary my boyfriend went running and left me behind lol. All in all this place is great!!!!

Posted 10/26/14

1 out of 1 found this review helpful

Amazingly terrifying

I don't think I stopped screaming for a second while we walked down the trail. If you like being scared, this is definitely for you, but if it's your first time at a haunted house/attraction, maybe you should start with something a little more mild. I wasn't exactly expecting it to be this terrifying. My only complaint would be that we didn't have much time to look at the costumes and makeup of the zombies, etc., because they were moving so fast.

Posted 10/26/14

1 out of 1 found this review helpful

So much fun!

It was worth the $20 admission! The fun part was watching the teens as they screamed their way through the bamboo & terror that the Walk of terror provided. Not only the girls but the boys as well were screaming. Go and enjoy the haunted bamboo!!!!

Posted 10/18/14

1 out of 1 found this review helpful

Say What!

What a fun time! It is well worth the $20 admission. Go and find out for yourself what scary can be!!!!!

Posted 10/18/14

1 out of 1 found this review helpful

Cant wait for this years to start!

First of blood beach is the best part. Mr. Bones just invites us in while his buddy pops out of bamboo before. I made fun of him for not having a chainsaw......what a mistake that was. The actor said I do one hold on. He then proceeded to chase me up and down the beach pretending to hold a chainsaw and making the noise of it revving. It was funny and I was laughing into the next section. The actors in the are scared me good. Then I hear the man from the beach revving a imaginary chainsaw. I started to laugh and he said trust me don't laugh. I went on and next thing i know he screams this is what you get for laughing at me. He chases me with a real chainsaw this time out of nowhere. The guy gave me a heartattack. I really hope he is still there when I go back!

Posted 9/27/14

1 out of 1 found this review helpful

I could not stop screaming. Outstanding.

Posted 10/22/13

1 out of 1 found this review helpful

Awesome Props - Had A Blast !!

This is def one of THE best trails I've ever been on. I'm all about being scared and this def did the job. I ran thru most of it being chased by monsters. The props were awesome. I honestly did not think a bamboo trail would be so cool but I was def proven otherwise. This is def a must do for the best holiday of the year and I will be sure to do it again year after year. Thanks Bamboo for a hell of a time!!

Posted 10/27/12

1 out of 1 found this review helpful

SO MUCH FUN!

We drove about 50 minutes to get here and it was so worth it. We felt eerie from the moment we parked, just because the place was so dark and foreboding at the entrance. The entire walk through the woods was amazing! We didn't quite walk, me my brother and sister ended up running through most of it because we were so terrified but we were having such a good time. I'll never forget when I stopped to catch my breath (it was also really cold that night) and said out loud "Guys, I just can't run anymore!" The ghoul chasing me came up right behind me screaming "You better keep running cuz I'm going to get you!!" Haha, it was all very very entertaining.

Posted 10/14/12

1 out of 1 found this review helpful

One of the Best

Where to begin with Bamboo Gardens! This was my first time visiting this attraction as my friends have raved about it from last year. For the price, this place is absolutely stunning with the scenery and amount of effort the actors put into this attraction. My two favorite places during the haunt, hands down, had to be blood beach and the Insane Asylum! I will go into detail later. You can expect a solid 35 minute walk through and that was with our group running for our lives at some parts! Hearing the live bats in the bamboo when you walking through the neon dotted bamboo forest makes for an eerie effect! Oh yea, watch out for Chain Saws! They seem to be everywhere and don't forget the menacing zombies and that CLOWN! Now for my favorite parts! Blood Beach, where to begin!!! When you go and see where Mr. Bones is hiding, it will make you go, how is he not freezing! The scenery with the torches and fires on the beach, actors jumping out at every angle, and MR. BONES, is a reason on why we will be coming back! The Insane Asylum! All I can say is you better be prepared to jump! Those two actors in there gave it a 110% and truly makes your heart race! The are so well hidden, you have no idea when/where they will jump out. You can seriously hear them calling your names and taunting and daring you to come in for dinner time. The burned victim in there is all over the place and is not afraid to get in your face screaming and terrifying us all. Bravo to them for loving what they do! Oh I forgot, that pesky clown and chainsaw men...well I'll let you find out where they will get you again! With all of that, Bamboo Gardens will be on our return list for many years to come and will be recommended to all! - Lauren

Posted 10/14/12

1 out of 1 found this review helpful

So much fun

This place is so different than most , you are actually in the woods, and the bats in the bamboo are real. The whole atmosphere makes you feel like your in a horror flick. Great time, highly reccommend it.

Posted 10/9/12

1 out of 1 found this review helpful

well worth the price!!

for the $15 admission it's comparable to the bigger more expensive haunts..the actors never broke character they were amazing! well placed throughout the walk, they weren't in the places you might expect to see them come jumping out from.. i was surprised at every turn! almost forgot my favorite character, this pesky clown kept showing up behind us throughout the walk (the clown was a nice touch).. the hard work and dedication really shows through at this haunt.. i will and have already recommended bamboo gardens to my friends... i loved it!!

Posted 10/6/12

1 out of 1 found this review helpful

WoW, this was so much fun, nothing like it

Have to go there. talk about scary, People would get to the entrance and hear everything going on but can't see it, and they are freaking out.

Posted 3/17/12

1 out of 1 found this review helpful

omg

this thing was so scary i mean like i started to cry in the BEGINNING of it

Posted 10/14/11

0 out of 1 found this review helpful
All information on this page was submitted to New Jersey Haunted Houses and was believed to be accurate at the time it was posted. Please report any inaccuracies
here
.