Marlboro Psychiatric Hospital - Real Marlboro Haunted Place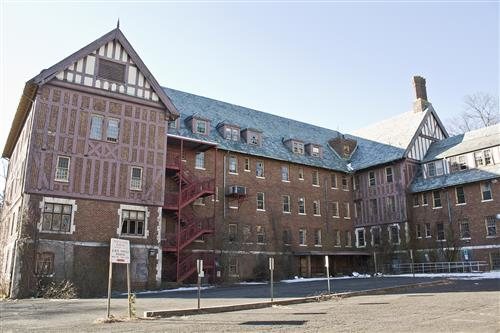 Marlboro State Hospital Road
Marlboro, NJ
Details
Average Review

Listing Categories

Open To Public

NOT Open to Public
Marlboro Psychiatric Hospital opened its doors in 1931 and remained active for nearly 70 years by the State of New Jersey. Between its cottages and building, it accommodated about 800 patients of all ages. By 1978, the hospital only treated adults and adolescents. Many patients died while at the hospital, prompting the designation of a cemetery on campus grounds for bodies that went unclaimed by family; 924 marked graves are still open for visitation from the public.
In the 1970s, there were patients who suffered from food poisoning, causing some deaths. Investigations in the 1980s and '90s exposed rampant patient abuse, much of which was responsible for some of the patient deaths. Other troubling tales of the hospital's history included patients going missing, patients choked to death, and patients dying from untreated ailments, according to reporting from
Gothamist
. Finally, in 1998 the hospital was officially closed.
Prior to closing, the hospital was staffed with more than 1,400 employees, serving over 700 patients per day, according to reporting from
NJ.com
. Many of the patients moved to other state psychiatric hospitals or group homes, while some went on to live on their own with a stipend and professional help to keep them healthy and safe without having to rely on living in an institution for the mentally ill, according to reporting from
the New York Times.
As for future plans for the property, the New Jersey Economic Commission initially put up the hospital for sale only to later hand it off to the Monmouth County Park System to turn it into an open space for recreational use. Before the park system could do anything with the property, it required massive demolishing and clean up massing from what was originally planned for as an estimated $27 million project, according to
State of NJ, Governor Chris Christie's Office
, to a $75 million project.
Marlboro Psychiatric Hospital wasn't something that could be turned around into the open recreational land quickly, so after closing the hospital became the stuff of local legend. An abandoned slaughterhouse is said to have been host to a murderous farmer who would lure victims down "death row" and kill them. Shadow people were often reported around the slaughterhouse before it was razed as well.
Given the history as well as mysteries around Marlboro Psychiatric Hospital, ghost hunters and other individuals daring enough would step onto the grounds and discover experiences for themselves even though signage clearly indicated 'No Trespassing' and that the grounds were filled with asbestos and wild animals. With the rising problems surrounding the void space demolition of some of its buildings were started in 2014. Even the hospital was demolished and all demolition officially completed in early 2015, but that does not mean its spirits don't continue to exists there!
Mouse over photos to see photo credits.
Working at Marlboro Psychiatric Hospital

I worked at the facility from approximately August 1968 to November 1971. Held 2 different positions there - Stores Clerk ($2.10 per hr.) under John Collins and later Groundsman ($2.80 per hr.) under Bill Paterson. Both fine supervisors I can still say after all these years. An employee could actually choose to live in a private room and eat all meals there for a modest room and board amount taken from their pay. Commuting employees such as myself ( then 18yrs old ) could eat decent meals there for what I would suggest at a fraction of the cost. Rahway prison trustees would work in the employee kitchen,on the hospital farm or the in slaughter house.We'd deliver food from our wear house to the this kitche almost every day. Once a week we'd pick up two large stainless steel wheeled tubs filled with actual pig heads that originally came from the slaughter house somewhere on the grounds I never ventured. Myself and whomever was my coworker at the time befriended the lead cook one of the jolliest souls I've ever met before or since . A massive black man who often said....... "Bet you white boys got lots a' money .... hell, bet you were born with a hundred grand in the bank ! All white boys got least a hundred grand ! His premise was so preposterous, that even at 18 we mostly got the harmless joke and I would banter back.Often I'd say ....." Willy , let's see those teeth of yours and he'd smile. Dam !not only are you strong as a bull , with those pearly whites you'd had been worth a fortune in the old days yourself. Such a dialog in 1968 ; but believe me , we loved this guy . You could feel his kindness when he'd step out onto the kitchen loading dock to check in our supplies.I remember a couple of times,if Willy wasn't nearby,a prisoner kitchen helper would try to get me to bring him a particular spice ( turmeric I believe) for some reason. Sometimes I'd have a patient trustee working with me.The most often assigned fella was an old guy who thought he was Jack Dempsey and felt obliged to say it often. " I'am Jack Dempsey, champion of the world! I can lick anybody!" I myself and others never felt threatened but simply accepted him as a part of the team. At the end of the day, this stoic old black gentlemen was paid with a small pouch of tobacco and rolling papers.He never said a word to anyone to my recollection. I have more true accounts....... but I'd like to see if there's still any interest out there in Ol' Marlboro, the most fun job I've ever had.

Posted 12/8/19

1 out of 1 found this review helpful

marlboro insane asylum

About 5 years ago a friend said he had blueprints to the insane asylum, so a group of like 6 us of went late at night to check it out. Had to park in a neighborhood and crawl under a fence to get in. We went all over from building to building, and went underground into these tunnels. I knew basically nothing about this place before doing this, otherwise I prob never wouldve done this.. The tunnels were creepy as hell, we'd turn off our lights and just listen. I dont remember though if we heard anything weird. The tunnels were like an endless maze, it was scary bc i didnt think wed be able to find our way out. Up in other buildings we saw the bedrooms, and this sort of party hall. There were huge cages in the corners. I have some pictures of them actually. At one point outside we split up and ran blindly into the dark bc saw headlights coming. A car came driving by as we all hid. I dont remember if we really experienced anything weird or not but it was definitely creepy as hell and idk what is wrong with us for doing that lol. i gotta find those pics now

Posted 7/31/19

1 out of 1 found this review helpful

I did a 30 day inpatient stay at New Hope back in 2000

I stayed at New Hope in September into October 2000 on the grounds of Marlboro psychiatric hospital. Place was super eerie and scary when you were alone. I still remember the smallest sounds at night keeping me awake. We spent alot of our free time outside when we weren't in groups. Smoking wasn't permitted there at all, but we were addicts trying to get off drugs (heroin in my case). We'd sneak cigarettes whenever we'd go outside or creek open the bathroom windows and blow the smoke out of them. I remember sitting in the grass under these huge trees that were just so big and beautiful. There was some beauty there but it just had that old brick building vibe. Beautiful grounds it was the buildings that were scary. I heard the deer inside the gates had been there since the place opened and we'd walk right past them grazing sometimes. The counselors would take us on walks that would usually only be to certain areas on the grounds. There was a few times, like on weekends when programming was very light and one or two of the cooler counselors would take us on longer walks around the property. I recall me and another guy picking up a downspout and leader that fell off one of the buildings, and talking about all the scrap copper money than was sitting in there. Typical addict behavior. I always found a way to keep my habit going back then. On Friday or Saturday nights me and a few other guys would take turns going on cigarette runs to the store. We'd collect money from others and charge a fee so we'd get our smokes free. We'd wait till it start getting dark out, sneak out and hop the perimeter fence. One time me and another guy were running through this tall grass nearing the fence and we nearly stumbled across several deer, including a pissed off male who chased us.That alone was a pretty scary moment, even if it wasn't supernatural like. There's definitely something chilling about my stay there still. The scariest were when I was alone detoxing. I was stuck in a decrepit, dirty room. I thought I saw things like this one night when I walked to the bathroom after repeatedly puking all evening. I swear it felt like someone touched my shoulder and back while I was over the toilet throwing up. Another was when I was showering the next evening. The feel of the warm water was a way of taking the edge off detoxing I felt. I know I didn't turn the water all the way up to hot. I leveled the temp before feeling it and stepping under it. I washed my hair and started lathering up when all of a sudden the water was burning hot. I went to lower it and the handle was like stuck and I couldn't move it. I had soap in my eyes and started screaming until a nurse came in and had no problem lowering the water temp. Whether it was all in my head or not I can't say. Was it me kicking the dope and benzos, or was it the fever playing games with me. There's a pretty large graveyard there, so you can imagine all the people who ended up dying while patients there. That's just the unclaimed bodies so the number must be quite larger. There's gotta be ghost and spirits there. I wouldn't want to spend a night in one of the old buildings that littered the property back then, that's for sure. I had this feeling the whole time like I wasn't alone even when I was. I grew up living in Old Bridge, so I've passed the grounds many times before this but there was always chatter about the place. Oh I finally put down the heroin and other garbage I was using and have been free from the drugs and lifestyle for over 9 years now.

Posted 4/19/18

4 out of 4 found this review helpful

I was a patient in late 1970s

Don't mind admitting it, I had a choice of the nut-house or jail on false charges, I chose the nut-house because I thought it would be better and I didn't trust the Court. After a month (and having my bank wire me some money), I hopped the fence. A missing persons was put out, I was caught in Washington DC and put in Saint Elizabeth's Hospital for three days. Lots of literally crazy stories to tell about my experience. This was a classic snake pit. The floors in intake were so filthy (I was barefoot), from cigarette ashes, I asked for a mop. The nurse poured a full bottle of rubbing alcohol into the bucket. I asked why and he said, "ringworms". They didn't serve any fresh fruit in the cafeteria so I asked the doctor for some vitamin C. He refused because I refused their "medication". I complained to other officials and they began serving fruit. I was about the only one eating it! One patient would go around eating cigarette butts. I told them to stop it. Prisoners worked in the kitchen, they baked their own bread. I would walk around the grounds, there was a farm there that grew soybeans. Some of the patients were there for decades, the doctor said to me, "what can we do with them, they don't know how to ride a bus?!" My paranormal experience was being forced to take haldol (twice, the second time I didn't swallow) because I "acted up".

Posted 9/23/16

4 out of 5 found this review helpful

Early memories

My dad was Chief of Men's Services. My mom and dad met whle both worked there. We lived in the Dr's houses next ti the main gate and fence which circled the hospital then. I also worked there in the early 60's. We lived on the grounds until I was 7. I have tons of memories but no paranormal experiences to relate.

Posted 3/25/16

5 out of 5 found this review helpful

New Hope Foundation

My ex boyfriend had a 6 month stay at New Hope, which used to be right next door to the psychiatric hospital. At the time it was not open, but I remember visiting and the meetings held were later at night and did not consist of many outsiders. I remember having to come outside to get in my car and stating that way the whole way to my car and being so freaked out. While driving down the lengthy winding road out to the major highway, I almost hit a deer and I am so sure my heart skipped a few beats. Really eerie place. New hope has since moved but none the less the hospital still sits.

Posted 3/24/16

2 out of 2 found this review helpful

"Accidently Found" when growing up nearby.

This place was insanely scary was there around 2000. There were people still occupying parts of it. Animals were living in every dark corner and the tunnels had a lot of chattering sounds. It was said most of it was people running crews full time salvaging pipes and wires that ran in tunnels for scrap. I heard a lot seen a lot ran out heart racing afraid, never seem a single soul. I did find the old farm house perfectly preserved. There was a barn out back most terrifying place on site some kind of bird came diving at ne when I tried to open barn-never went back.

Posted 3/23/16

1 out of 1 found this review helpful

student nursing then worked there in nursing home part

it was eerie and it was crazy to work at especially in the 90s they also had tunnels that they used to use to go between the buildings and not go outside at all but too many people were being abused they should have kept it open and just changed the rules there cause putting all those people out into society did not do them any good

Posted 3/23/16

4 out of 5 found this review helpful

wing 14

used to deliver pizza there back in the early 90's , thats where all the real wack jobs were , remember being a little kid with the driver and they were walking around lije zombies , so eery shit

Posted 3/23/16

0 out of 2 found this review helpful

Student nurse

I went there as part of my psych nursing clinical rotation. It was a beautifully eerie place. The "cottages" were in bad shape but we could still tell how beautiful it must have been when it was built.

Posted 3/22/16

1 out of 1 found this review helpful

Local legend

I went there on a high school trip back in the late 80s. The feeling walking around there was creepy. It was still open at the time. As long as I can remember it was widely locally thought to be haunted.

Posted 3/22/16

Marlboro Psychiatric

We have capsule Ted this haunted place in our book. "Folklore of the New Jersey Shore - History, the Supernatural & Beyond" (Schiffer Publishing) father daughter paranormal investigators Kimmel & Timper Check amazon and Barnes and noble

Posted 3/22/16

2 out of 3 found this review helpful
Share Your Experience or Comments - Marlboro Psychiatric Hospital
Real Haunt Listing Info
Visitors to this page: 18,221
Last edit to this listing: 4/11/2017 (1020 days ago)

Disclaimer: New Jersey Haunted Houses does not endorse or support trespassing to visit real haunts. Before you visit ANY local real haunt, make sure to acquire the appropriate permits and/or permissions, and be respectful of privately owned properties. Countless Haunt Hunters have been arrested, ticketed, and reprimanded by the authorities for trespassing. To avoid this, be sure to get in touch with the property owners before visiting a haunt, and respect their hours of operation, local regulations, and rules for visiting at all times. Happy haunting!
All information on this page was submitted to New Jersey Haunted Houses and was believed to be accurate at the time it was posted. Please report any inaccuracies
here
.