Celebrate Friday the 13th at Brighton's Clown Asylum!
Home » Blog » New Jersey's Best Weekend Events, NewJerseyHauntedHouses.com News and Updates, New Jersey Haunt News
May 2, 2016 By Chelsea T.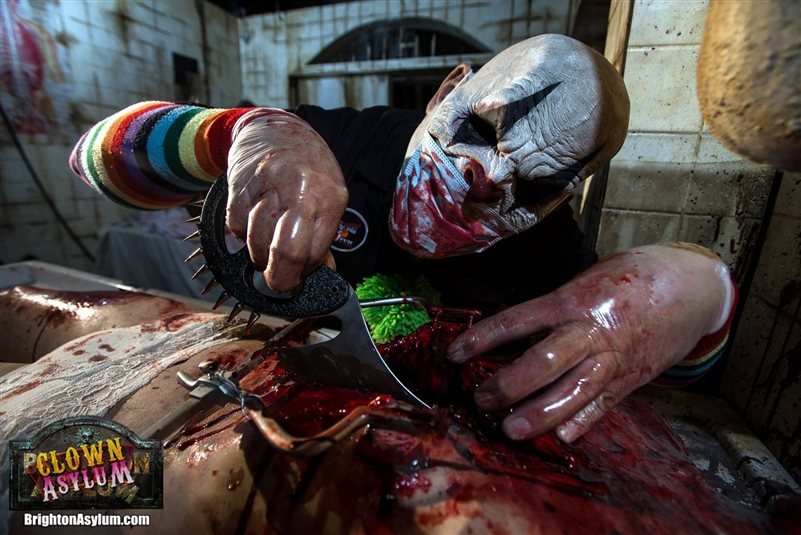 Clown Asylum
Photo by:
Brighton Asylum
Depending on the year, Friday the 13th only comes around a couple times, so why not celebrate the right way when it does? On Friday, May 13th, Brighton Asylum in Passaic will be hosting "Clown Asylum," for those who love and hate the face of any clown. Add a chainsaw into the mix, and we're sure even the ultimate clown lovers will be terrified!
Clown Asylum will take place from 8:30-10:30 PM and will be Brighton's last off-season haunted house until the 2016 Halloween Season, which means you don't want to miss out!
These demented clowns will be taking over Brighton Asylum, in search of their next victims. If you're interested in attending the event but think you'll be too frightened coming in contact with these malevolent clowns, ask for a free protection balloon before entering. This will keep the clowns from going too hard on you!
As Clown Asylum is an optional full-contact event, it is important to read up on Brighton's contact events here before participating. The Panic Escape Rooms will also be open for those who are interested in testing their skills with friends to see if they can beat the clock by working together!
Click here to purchase your Clown Asylum tickets in advance before they sell out!