Cake Boss Crew Checks Out Brighton Asylum for Some Halloween Inspiration & Big Scares
Home » Blog » New Jersey's Best Weekend Events, New Jersey's Local Halloween Fun Guide, New Jersey Haunts: An In Depth Look, Halloween's Hottest Trends, New Jersey Haunt News, Halloween Headlines
November 2, 2017 By Cait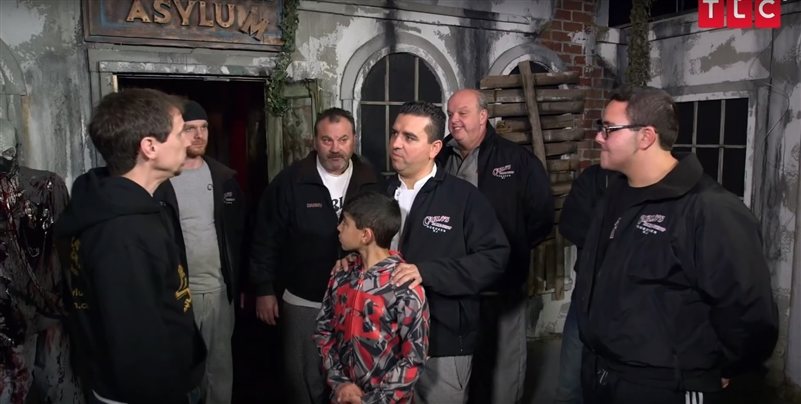 Cake Boss Buddy Valastro & His Crew Meet Up with Rich Gonci, Owner of Brighton Asylum, to Bake Up an Epic Cake for the Haunt's Team!
Photo by:
TLC, via YouTube.
Just in time for Halloween, Hoboken's own Buddy Valastro, more commonly known as "The Cake Boss" - his hit tv show on TLC, visited another New Jersey staple - Brighton Asylum! Buddy brought the whole crew down to Brighton Asylum for a consultation with owner Rich Gonci, who has asked the Cake Boss team to put together a scary-good sweet treat inspired by the haunt for his hard working crew, who have been providing thrills and chills all Halloween Season.
It's obvious just from the trailer that the Cake Boss crew found the haunt terrifying, but that they're up to the task when it comes to creating a cake to celebrate the hard work that Brighton's staff has put into providing a terrifying experience all season long.
During their consultation, Rich also lets it slip that the property is in fact believe to be haunted, with many of Brighton's themes based on local lore, and hearing reports from numerous employees about eerie happenings after hours at the haunt - something that definitely spooks Buddy and the team.
The episode aired on Saturday, October 28th, but you can still check out the full episode of the Cake Boss Crew's visit to Brighton Asylum on TLC's website, or on demand, or by catching a rerun on TLC - check your local listings for the scoop on when you can check out this awesome episode of Cake Boss!