Brighton Asylum Presents Dark Valentine, a Terrifying Date Night to Remember!
Home » Blog » New Jersey's Best Weekend Events, New Jersey Haunts: An In Depth Look, New Jersey Haunt News
January 21, 2018 By Wendy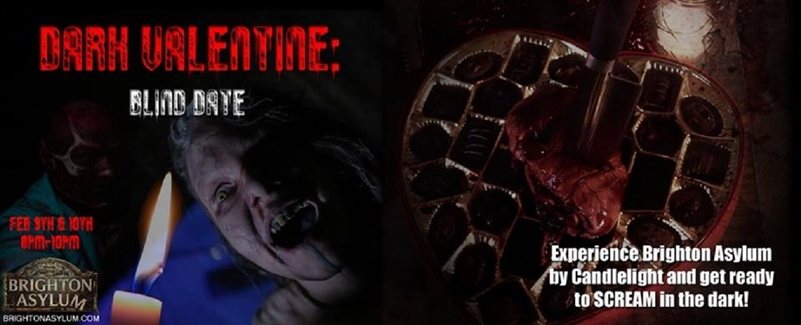 Brighton Asylum Presents "Dark Valentine: Blind Date".
Photo by:
Brighton Asylum.
When the lights are turned out and all you have is your date and an small LED candle to guide your way through Brighton Asylum, things can get terrifying! Experience Valentine's Day in special way this time around. The inhabitants of the haunted house are lurking from the dark and they are ready to bring scare and horror to your night out.
Don't miss out on the fun scare this Valentine's Day holiday! Even if you're without a date, it can be a night to remember with friends and family. "Dark Valentine: Blind Date" at Brighton Asylum runs on Friday, February 9th, and Saturday, February 10th, from 8PM – 10PM. General admission is $33 per person or $55 for a Fast Pass admission when purchasing onsite. Purchase tickets online now for additional savings.