Six Flags Great Adventure Fright Fest Kicks Off September 19th, Zombie Auditions Taking Place
Home » Blog » New Jersey's Best Weekend Events, New Jersey's Local Halloween Fun Guide, New Jersey Haunt News
August 26, 2015 By Wendy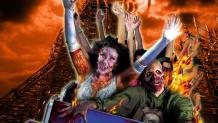 Photo by:
Fright Fest Presented by SNICKERS at Six Flags Great Adventure
Get ready for one of the largest Halloween parties in the Northeast! Six Flags Great Adventure's Fright Fest is in its 24th year and it kicks things off on Saturday, September 19th.
Fright Fest remains open through November 1st on weekends plus Fridays on weekends and Columbus Day (October 12). During the day, there are family-friendly thrills including the chance to grab candy from dressed up characters in the trick-or-treat trail and by night (starting at 6 p.m.) things are amped-up with scare zones, terror trails, haunted mazes, zombies, and Halloween-themed shows and attractions.
For those who enjoy impersonating the living dead, don't miss the Fright Fest Zombie auditions to be a part of the Halloween party at Six Flags Great Adventure. Just fill out an online application and bring you best impression of the living dead when zombie auditions take place in the employment center on:
Friday, August 28th at 6 p.m.
Saturday, August 29th at 1 p.m.
Wednesday, September 23rd at 6 p.m.