Six Flags Great Adventure Announces Final Six Participants in the 30-Hour Coffin Challenge
Home » Blog » NewJerseyHauntedHouses.com News and Updates, Press Releases
October 25, 2018 By Haunt News & Press Releases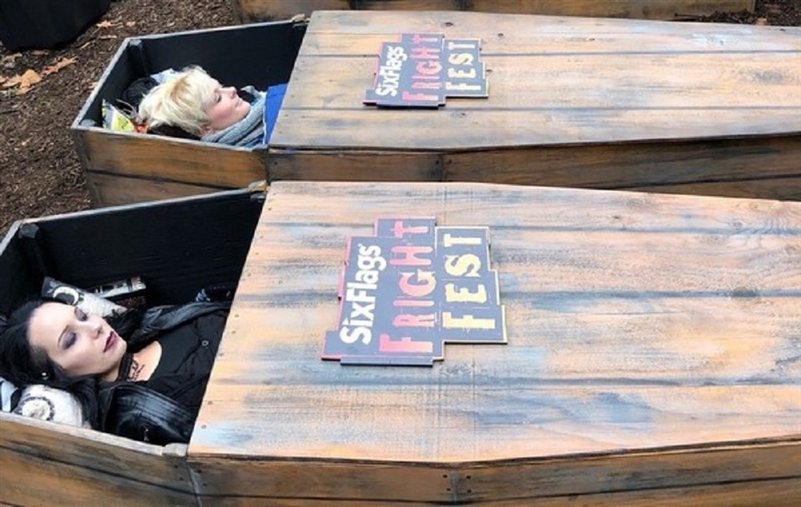 The Six Flags 30-Hour Coffin Challenge was extended to all park locations in North America. Pictured are contestants in the Six Flags St. Louis challenge.
Photo by: Six Flags
Jackson, New Jersey - Oct. 23, 2018 - Six Flags Great Adventure put out the call for those who would dare to spend 30 hours in a coffin during the Northeast's largest Halloween party, Fright Fest. When the registration deadline ended, more than 4,300 people from all over the country had entered to be a Coffin Dweller. The now-viral Six Flags 30-Hour Coffin Challenge will take place this weekend, October 28 and 29. The six participants will lay in a wooden coffin for 30 hours, receive a six-minute bathroom break each hour, limited cell phone usage, meals in their coffins and unannounced visits from the Fright Fest freaks. Those who complete the 30 hours will receive two 2019 Gold Season Passes and Dining Passes, two Haunted Maze Express Passes, $300 and…they get to keep their coffins!
The six Coffin Dwellers chosen for the Six Flags Great Adventure 30-Hour Coffin Challenge are:
Brandon Hardy of Bear, DE – Joins the challenge as the only participant with previous experience sleeping in a coffin during his days as a paranormal investigator. He describes himself as "fearless" and ready for any challenge.
Vincent Gatens of Staten Island, NY – This adventurous Navy veteran has extensive experience living in dark, cramped spaces without daylight.
Leticia Gomez of Howell, NJ – No stranger to coffins, she has worked as a funeral director for 25 years. Will her embalming skills help keep her composed during the challenge?
Jennifer Gorden of Philadelphia, PA – This Halloween fanatic declared that her dream job is to become a mortician.
Shane Madak of Groton, CT – Currently active duty in the US Navy on a nuclear submarine, he spends 70% of the year underwater and without cell service, internet and daylight, sleeping in "coffin racks" -- tiny, cramped beds surrounded on all four sides, accessed by only a hole at the foot of the bed.
Dan Murter of Levittown, PA – With a name reminiscent of the macabre, he was destined to make "the three H's" his life's passion – Halloween, haunts and horror. His parents met at a Halloween party, and he met his wife while both were acting professionally in a haunt. Now, their children are helping to keep the family tradition dead, er, alive.
Details:
Six Flags Great Adventure, Jackson, NJ – Demon District
Begins Sunday, October 28 at 1:00 pm with a Laying to Rest Ceremony
Concludes Monday, October 29 at 7:00 pm with a Raising from the Dead Ceremony
To view on live stream, click here.
Source: Six Flags Great Adventure