Enjoy Some After Halloween Scares with THE PURGE at Bane Haunted House!
Home » Blog » New Jersey's Best Weekend Events, New Jersey Haunt News
November 10, 2016 By Chelsea T.

The Halloween Season may be over but Bane Haunted House is giving thrill-seekers another chance to experience the terror at their Purge event. Open Friday, November 18th and Saturday, November 19th, The Purgewill take place from 7-10 PM and is sure to take visitors on an intense adventure.
The objective of Purge Night is either kill or be killed - it's quite simple! Well, maybe not for everyone. Visitors will be thrown into a dark, abandoned warehouse after being kidnapped. The games begin and the clock is ticking. Each person will be given a full weight, metal body replica of real-world M4 rifles to help take on those who are cleansing their souls in The Purge.
These people have been hired by an extremely wealthy, exclusive group that get pleasure out of watching this life or death game from another room, while sipping their champagne and placing bets on which victims will be killed.
Do you and your friends have what it takes to survive The Purge? Click here to purchase your tickets and find out!
Photo Gallery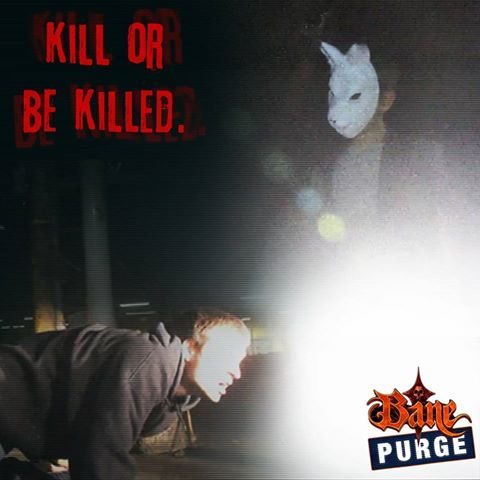 Source: Bane Haunted House Facebook