Here's What Visitors Can Expect from this Year's Electric Halloween Music & Camping Festival
Home » Blog » New Jersey Haunts: An In Depth Look, NewJerseyHauntedHouses.com News and Updates, New Jersey Haunt News
October 5, 2018 By Haunt News & Press Releases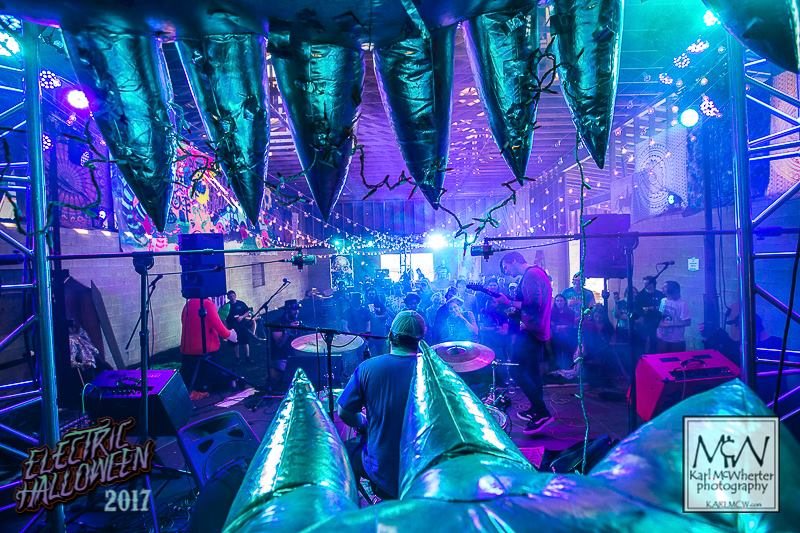 View from the Jaws of Electric Halloween Stage!
NewJerseyHauntedHouses.com recently sat down with Marideath of Electric Halloween Festival, to discuss what's taking place at the event for the 2018 Halloween Season! Located in Millville, this unique experience will be jam packed with spooky entertainment. Read below to find out what you and your friends are in for!
What's new at Electric Halloween Festival for 2018? Do you have any new rides, attractions, or special features that Haunt Seekers should know about?
Our annual magic show has some major upgrades. "The Gifts' of the Magi", with Majik Mike and special guest David London as Dr. Finis Nodnol will thrill the audience. This year, we have split costume contests into Singles on Friday and Groups on Saturday. All contest winners, including best decorated campsite will be receiving exclusive Electric Halloween trophy medals! We have a new game called Pumpkins & Pinatas, where we will be throwing pumpkins as hard as we can at pinatas until they break. Our Spiritual Market is going to be mystifying with tarot & pendulum readings, spell kits & more. Make sure to stop and take a picture with your friends at our new photo backdrop!
What differentiates Electric Halloween Festival from other local haunts in New Jersey?
We are a WEEKEND LONG Halloween party! We got the music, the wine, the magic show, fire performances, everything thrilling along with all your classic loved Halloween activities like pumpkin carving, s'mores at the campfire, and enjoying a Halloween vacation with your friends. It's not scary, you won't have any serial killers slicing your tent open, but we encourage good ol' Halloween fun!
How long has Electric Halloween Festival been in business? Can you tell us a bit more about Electric Halloween Festival's history?
This will be our 7th year as an event, but our 4th year as a weekend camping festival. We stated with a little under 100 people as an event where a few local bands of all different genres could get together on Halloween and have a killer party. By the 3rd year, we quickly outgrew our space with over 300 people and knew we had to find a larger venue. With more bands asking to play, more people trying to attend, we decided to make it two days and an overnight event where you don't even have to go home! You can stay! How cool is that? We still have a large mixed variety of music and it will always stay that way. So bring your friend that likes metal music, enjoy your DJ tracks, everyone that comes will get to experience something that they usually wouldn't outside of their own music scene.
What's your favorite experience since opening Electric Halloween Festival?
My favorite experience is seeing the groups of friends basically taking a little Halloween vacation for the weekend. They come up with themes for their campsite decorations and enter the costume contests. Every year you are guaranteed to make friends with neighbors and over the years you realize how much of a community the event has become.
How long is a typical haunt experience at Electric Halloween Festival from start to finish?
If you want the full experience, come camp for the entire weekend! Campers set up 12pm Friday and enjoy music and fun the whole weekend without ever having to leave. We do have some people come for 1 day and go home to sleep at night, and many return back the next day. Music continues until 3am each night in our barn area where you can stay nice and warm to enjoy the show. We definitely encourage the full camping experience... we even make it FREE! Borrow a tent, bring thick blankets, and enjoy the entire weekend.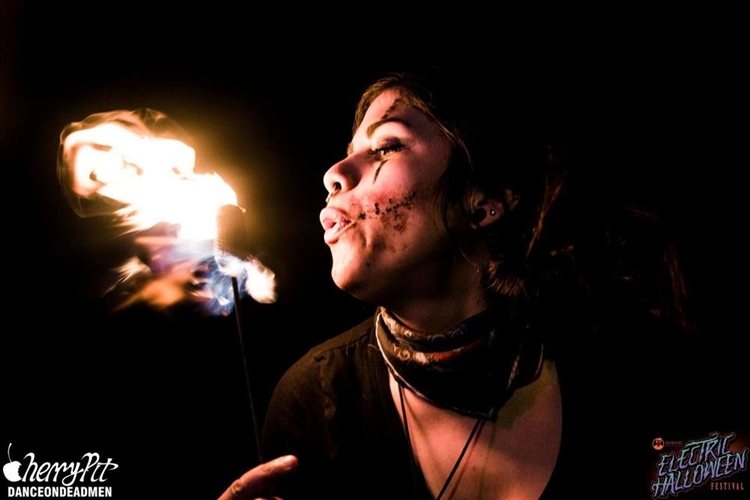 On a scale from 1 to 10, how scary would you say Electric Halloween Festival is? Why?
I would say 5. Right in the middle because it could really go both ways. We don't make it scary at all (unless you're scared of some of our clown decorations). Campers decorate their own site and scare at their own will. You could be camping next to Spongebob or Jason Voorhees, who knows?
Does Electric Halloween Festival's property have any real haunted history? Do you have a spooky encounter you'd like to share?
Our festival is hosted on Southwind Vineyard & Winery property. We couldn't find out much about the history, but upon asking the staff, they stated they are fully trained to find the best pairing of wine for the trick or treat candy you stole from your kids.
What inspired you to open up a haunted attraction? What's your favorite part of the business?
Having the biggest and best Halloween Party in all of October! My favorite part is seeing how many festival-goers look forward to this event all year long and start planning early in the year.
Can Electric Halloween Festival accommodate large groups? How many people can experience Electric Halloween Festival together as a group?
Bring your entire group! The bigger the campsite the more fun! It will also be easier to set up decorations with extra hands.
Does Electric Halloween Festival offer any special deals, discounts, or coupons?
50% off for veterans. Blind Bat ticket sales begin in July before bands are announced. Online tickets are cheaper than ticket booth.