BloodShed Farms Fear Fest Returns with Gruesomely Good Fun this Halloween Season!
Home » Blog » New Jersey Haunts: An In Depth Look
July 8, 2016 By Haunt News & Press Releases

BloodShed Farms Fear Fest
NewJerseyHauntedHouses.com recently sat down with Jim Reed of BloodShed Farms Fear Fest, to discuss what's new at BloodShed Farms Fear Fest for the 2016 Halloween Season! Located in Columbus, New Jersey, BloodShed Farms is run by the same crew who ran The Haunted Prison in Mount Holly for almost a decade. There are a total of four attractions that will be featured at BloodShed Farms for the 2016 Halloween Season.
The crew has been working their hardest to assure their thrill-seeking visitors have their appetite for fright satisfied this season! Get a taste of various attractions all in one place, including the "Last Ride" haunted hay ride, "Trail of Terror" which allows visitors to brave the spooky woods, and much, much more!
In addition to the scary-good fun, BloodShed Farms will also be hosting a special "No Scare Night" on Sunday, October 30th, for those who are interested in some Halloween fun for the kiddies. All attractions will be open but characters will be friendly and greeting visitors, and all automated scares will be turned off. Also, be sure to look for the characters wandering around giving out candy!
What's new at BloodShed Farms Fear Fest for 2016? Do you have any new rides, attractions, or special features that Haunt Seekers should know about?
There's is a TON of new stuff! We have re-themed Hellsgate Prison to Hellsgate Asylum where we have added new scenes and characters and tweaked some of the old favorites. It also has an all new facade. The fun house has been renamed Clown-O-Phobia and we tore 85% of the old structure down and have rebuilt it and expanded it. If you loved this attraction before, just wait until you try it this year. On the Trail of Terror, we've expanded into the woods and added a few more scenes along the way. As for the hayride, we have completely reworked it and have built 7 new scenes and we are adding many more characters into it. Our party area also has some new additions that we know will make it even better!
What are you most excited about for the 2016 Halloween Season?
Really I'm just looking forward to everyone enjoying all the changes and seeing the scares and scenes come to life! We've been physically working on some aspect of the haunt on a daily basis since January and I can't be more excited myself for this season to begin.
What differentiates BloodShed Farms Fear Fest from other local haunts in New Jersey?
Unlike most haunts, we don't want you coming and just doing the attractions and leaving, we strive to make every second you're at BloodShed Farms a unique and memorable experience and try to create a creepy and fun atmosphere all around with plenty to do and see. We have around 75 scareacters roaming our grounds and attractions on a nightly basis. We have a huge party area with themed midway games (including our Kill-A-Bear Workshop), great food, pumpkin smashing, and of course THE BLOODSHED (A 1 of a kind standalone, single entry interactive attraction!) We always say, come out to BloodShed Farms, have a fantastic time, and oh yea, we have 4 kick ass attractions too!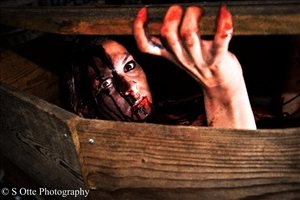 How long has BloodShed Farms Fear Fest been in business? Can you tell us a bit more about BloodShed Farms Fear Fest's history?
This is the 3rd year for us but the owners and much of the management and acting staff came over from The Haunted Prison haunted attraction that ran for 9 years prior.
What's your favorite experience since opening BloodShed Farms Fear Fest?
How much of a family the staff has become. Really, all year around we're doing things together, hanging out, loving the holiday and everything creepy together. There's friendly competition which can only be good for attendees because everyone is always on their game and trying to improve.
How long is a typical haunt experience at BloodShed Farms Fear Fest from start to finish?
This is always tough to answer because it is majorly dependent on the attendance. But it is easy to cater your visit to stay as short or as long as you like. Grab some VIP passes for a few attractions and you can be in and out quick, but our haunt is designed for you to take your time, hang out, and enjoy the atmosphere. If you'd like, you could spend you're whole night with us!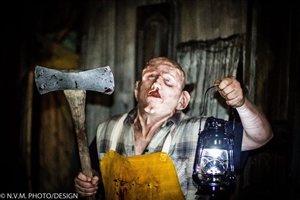 On a scale from 1 to 10, how scary would you say BloodShed Farms Fear Fest is? Why?
9 to 10 - This is what people want from haunts and we focus on giving it to them! Our scareacters are well trained and our scenes are set up for the best possible scares!
Does BloodShed Farms Fear Fest's property have any real haunted history? Do you have a spooky encounter you'd like to share?
The property has a gruesome and disturbing history. It's too much to say here but check outr website for the full story.
What inspired you to open up a haunted attraction? What's your favorite part of the business?
Myself and my partner were both home haunters for years. We ran The Haunted Prison for 9 years and always had a dream of owning our own attraction. Doing what you love year round is a great benefit.
How has new technology (i.e. animatronics, special props, etc) helped you to enhance BloodShed Farms Fear Fest?
Well, I'd have to give some surprises away if I told how and where we were using some new gadgets and tech. As for animatronics we purposefully don't use too many. While some look amazing they just don't have the feel and personality you get from a live person.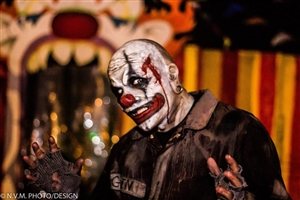 Can BloodShed Farms Fear Fest accommodate large groups? How many people can experience BloodShed Farms Fear Fest together as a group?
Groups as large as you can imagine can attend but .... We limit the size of the groups going through the 3 walkthrough attractions to 6 max. Our hayride can take 25-35 people each trip.
Does BloodShed Farms Fear Fest offer any special deals, discounts, or coupons?
If you sign up for our newsletter we are always sending out deals and coupons. Also, local stores carry coupons as well as the office at the Columbus Farmers Market. We will have many special deals this season, please check the website for them.
Anything else you'd like to let us know about BloodShed Farms Fear Fest?
For more information, click the "Visit Website" button below to view the BloodShed Farms Fear Fest website.