AllBobbleHeads.com's Customizable Zombie Bobble Heads Turn You Into the Undead
Home » Blog » Halloween's Hottest Trends
September 4, 2015 By Kelly T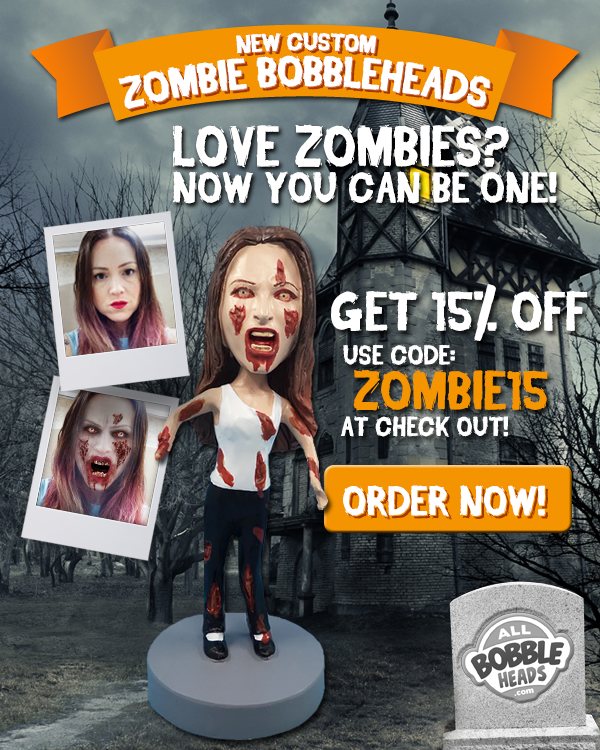 Photo by:
Allbobbleheads.com
Do you love all things zombies, "The Walking Dead," and George A. Romero? Then we're sure you've wondered what you would look like as a member of the undead, and now, you can find out! AllBobbleHeads.com makes customized Zombie Bobbleheads that can be personalized to emulate your look, a friend's look, a family member's look, whoever! This Halloween, why not kick your fear-filled decor up a notch and turn your friends & family into your own personal zombie horde!
AllBobbleHeads.com provides customers with an easy to use customization chart that puts you in control of all of the design choices. From bobblehead size, to skin tone, to wording on the figure's clothing, you'll have plenty to pick from to get your zombie look-alike just right. They also allow you to attach photos of the subject you're emulating for a truly precise flesh-eating doppelgänger.
Make your zombie loving friend the happiest member of the living by gifting them their very own zombie replica, blood stains included. Click here to begin crafting your undead bobblehead!
Did you know that AllBobbleHeads.com also curates other custom bobbleheads? Turn your friends and family into skeletons, gladiators, merpeople, hippies, superheroes and more! With such a broad selection, there's no doubting that AllBobbleHeads.com has the right bobble head for anyone, no matter their personal tastes and likes!
Do you have your own awesome Halloween product that you'd like to showcase during this spooky season?
Contact us at 888-228-5265!
Photo Gallery