How to Make Your Own "Halloween on Christmas" Christmas Tree This Holiday Season
Home » Blog » Halloween's Hottest Trends, Little Ghost & Ghouls Corner , Scary-Good DIY Ideas, Halloween Headlines
November 30, 2017 By Cait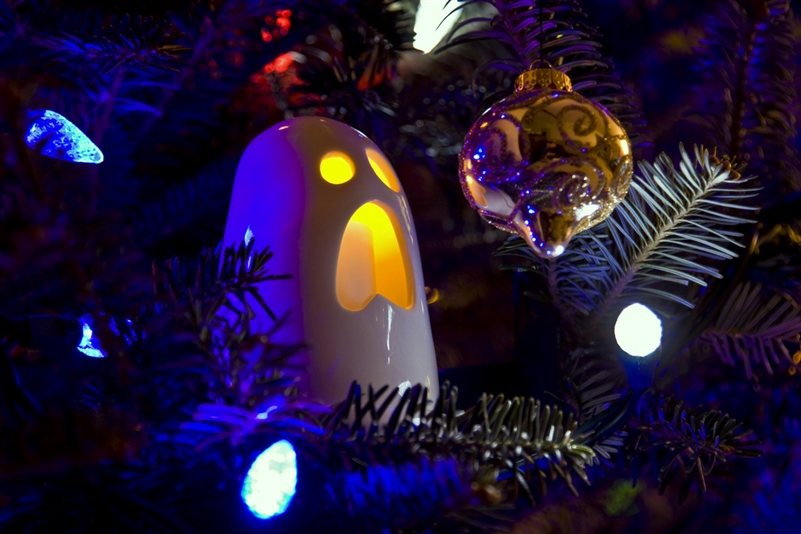 When Christmas and Halloween Collide, the Results Can Be Truly Epic!
Photo by:
Sangudo, via Flickr. (CC BY-NC-ND 2.0)
Have you been thinking about putting together your very own "Halloween Tree" or Halloween-Themed Christmas Tree? Well now is the perfect time to get started on building your epic holiday creation! Halloween may have come and gone, but with Christmas right around the corner, now is the perfect time to begin building your "Halloween on Christmas" Tree!
There's plenty of ways to bring festive Halloween fun into the Christmas Season, but if you're looking to go big, having a Halloween-themed Christmas Tree is definitely a way to make a big statement. Haven't tried your had at making a Halloween Tree yet? No problem! We've put together some simple steps that'll have you on your way to creating the perfect Halloween Tree just in time for Christmas!
Decide Whether You Want a Black, or White Christmas Tree

- Depending on the way you like to decorate, you're going to want to get either a black, or white Christmas tree to decorate. Having a black or white tree will really make your Halloween ornaments and adornments pop, so it's an important first step. If you find that a lot of your ornaments, tinsel, and decor is darker in color, you'll want to go with white, but if you've got a lot of brightly colored Halloween ornaments and tree decorations, than black might be the way to go. It's definitely worth mapping out what kind of direction you want to go in with your tree before picking Black or White.



Buy Up That Gauzy Orange, Black, and/or Purple Halloween Ribbon at Local Craft Stores

- One way to jazz up your Halloween Tree, especially if you're just starting out your ornament collection, is to supplement traditional ornaments with "Halloween garlands". Rather than your traditional tinsel, you can make Halloween Garlands by using those beautiful, gauzy ribbons that they sell at Michael's, Joanne's Fabrics, and other crafting stores.

You might even be able to score some on clearance right now with spooky bats, spiderwebs, witch hats, and other festive Halloween designs on them. If your tree is black, you may want to go with orange, purple, and white, instead of orange, purple, and black, which would be better suited for a white tree.



Get Christmas Lights That Match Your Halloween Motif

- Nowadays, it's really easy to get strands of Christmas lights in a single color, and so we'd recommend heading down to your local big box retailer or home supplies store and picking up orange, purple, and clear holiday lights. These will add some extra special twinkle to your Halloween Tree, and this color combo will work perfectly for both black or white trees.

It's also a good idea to get a few more strands that you might for a traditional Christmas tree, because you'll want to intertwine the colors, or go over the tree once in each color strand, so that you've got a mix of colors throughout (just make sure you don't string together more than the box says you should!).



Get Silver, Purple, Black, Gold, and Orange Christmas Glass Ornaments

- These classic Christmas Ornaments are another great way to "fill out" your tree, and nowadays, many retailers sell sets that consist of limited colors, and some stores even stock special "Halloween colored Christmas Ornaments" during the Halloween Season. It's a little late, but you might be able to score some on clearance still!



DIY Some Christmas Ornaments to Add a Personal Touch to Your Tree

- One fun way to add a really personal touch to your Halloween tree is to DIY some ornaments of your own. For this, you'll need some clear glass ornaments and acrylic paints, as well as a clear, spray on sealant (so that the paint stays nice for years to come). You can do all sorts of things with this - you can paint traditional Halloween iconography like spooky bats, witch hats, black cats, and other holiday favorites. If you go this route, be sure to paint the clear balls a fun background color that'll stand out from your tree (i.e. a black, yellow, or orange background for white trees, or a white, orange, purple, or yellow background for black trees).

You can also paint jack'o'lantern ornaments, which are fairly straight forward, or even your favorite characters from

Nightmare Before Christmas

! Be sure to check out Pinterest for inspiration for this one!


See What

Nightmare Before Christmas

Ornaments Disney Has to Offer This Year - So, maybe hand-painting ornaments isn't your thing. Fair enough - if you've never done it before, it can seem a bit overwhelming. Luckily, over the years, Disney has released a

ton

of

Nightmare Before Christmas

ornaments and baubles that are sure to look awesome on your tree! Each year they offer up new ones, so be sure to check out this year's collection, and maybe even add some to your Christmas wishlist, so you can grow your collection each year!
How Do You Incorporate Halloween Cheer Into You Christmas Decor?
Share Your Ideas (and Photos!) In the Comments Below!