Corner of Chaos: Scream Acres - Reopening in 2017!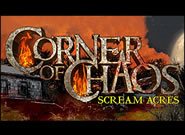 Details
Average Review

Scare Factor

Very Scary

Appropriate For

Ages 10 and up

Organization Type

Commercial / For Profit

Listing Categories

Haunted Houses, Haunted Hay Rides, Haunted Mazes / Haunted Corn Mazes, Spook Walks / Haunted Trails, Pumpkin Patches, Halloween Festivals & Parades, Scream Parks, Other Events

More Info

Wheelchair Accessible, Outdoor Event(s), Touching Not Allowed, Free Parking
Have you walked alone in woods? Or been home alone on a stormy night? How scared have you really been…? not enough. Visit Corner of Chaos, where fear is only the beginning. Walk in a bloodied barnyard, quake on the wicked wagon, tread in treacherous woods, and scream in chaotic corn. Too scared? Visit the kiosk for live dance, fire shows, food and more. Four Attractions, four show, one place... Corner of Chaos
Located 3 miles off of exit 8 on the NJ Turnpike.
Email Haunt Owner
All photos and videos within this listing are the property of Corner of Chaos: Scream Acres - Reopening in 2017!
Amazing!!!!

Absolute great time. All the attractions are well worth the money. Great actors and scenes. The corn is by far the scariest not to mention the funny greeters in front of it that kept us laughing which dampened the wait time and kept us entertained. Definitely the best in New Jersey!

Posted 10/26/14

2 out of 2 found this review helpful

one of the best in the area

this place is great. Each trail is different in it's own way. The woods is creepy to walk through in itself even without the actors. the wagon has some awesome sets and scenes! The Corn had some great startle scares and the barnyard actors are just plain insane! Bonfire, dance shows and fire throwers are all free to watch. Yes, the lines can get long but that's a good sign that it's good/popular. Don't let the waiting ruin your night!

Posted 10/20/14

Amazing :o

Go Early because this place is funny and yet really terrifying. Even if it means getting there before the actors come and haunt you. :) . Unfortunately I can't go this year because my boyfriend says its too far. But I definitely say this place is hands down worth the money :D. Bwahahaha. Oh and one of the guys that I guess is in charge of the lines is the owner of the place. He is very friendly and is open with any suggestions on how to make the place more terrifying!

Posted 10/19/14

i love this place definitely worth the it :D

Before I tell my review about this place I highly recommend going there extra early if you can go there before most of the actors there because this place is very very popular. Last year I went with a guy I was dating and we were waiting until the ti let booth was open.Okay now I will begin my review.O Whoever loves haunted attractions go here its amazing and very unpredictable which you ask me is a must for Halloween scares! The hayride is different every year last year it was quite different from the year before it was quite nice.:) But one thing I have to say about this lady she was really mean and insulting. :p . There's this one I'm assuming high school girl looked younger than me slowly was walking around behind me and creeped the heck out of me:o . I loved all the attractions they are so entertaining and yet scary. But I do I have to say or suggest all the workers to have a signal so when people go inside the attraction they can scare at the right time.:) . It was funny how two guys at the barnyard lost character when they started flirting with me and they guy that I was dating was right next to me lol. Overall this place is amazing go here if you want to laugh or get really scared:D. Also the Hindu guy should be a comedian he is so funny Xp

Posted 10/19/14

Great time, friendly staff, lots of jumpscares!!!

I am difficult to scare, and my best friend and i consider ourselves haunted house "experts." This was our first time here and I have to say for only being 30 minutes away from me it was not bad at all!!! The attractions (we only went through two) had a lot of jumpscares and were very nicely decorated. Sometimes the characters were a little too fake with their acting but some of them had some horrifying screams. My ABSOLUTE favorite part has to be the fact that THEY FOLLOW YOU and or CHASE YOU out of the attraction you are in. One of the guys, when we left his section, (after he had made us scream) told "us ladies to have a nice night" I know it breaks character but for some reason I thought that was really nice. It's not so much the kind of scary that will keep you up at night but its definitely a good thrill that will last until you leave. Outside of the attractions there was a giant clown thing and it tried to hug me and i backed away and said "haha you cant keep up with my fast reflexes!" and it FLEW AT ME! It chased me so fast around the food shack things and I was screaming so loud and it was hilarious! I was happy with my purchase and I recommend this place to anyone, especially if you like jumpscares and are easy to scare.

Posted 10/18/14

Great time

I had sooo much fun last year it was awesome and i loved the bus ride to the corner of chaos, And All the haunted Attractions . I cant wait, i'm going again this Saturday!

Posted 9/30/14

Good Value, OK Scares

Went on a recent Saturday night with several other people. Went to the Barbaric Barnyard, Wooded Wasteland and the Nightmare Machine. Was going to go on the Wicked Wagon Ride, until some people told us it wasn't really worth it. Except for the Barnyard - where we waited in line for over 2 hours, the other lines moved fairly quickly for a Saturday night. The scares themselves were ok, but nothing really different than most other places. I do think there were more frights last year at the Corner of Chaos attractions.

Posted 10/28/13

Unique! Outdoors and a great value!

I was looking for an alternative to the standard indoor 1 event experience (i.e. State Scare in Belleville is great, but I didn't want another 20m for $25 and a long wait night). Corner Of Chaos was a great choice! 4 outdoor events for $40 (great value!) - Lines per event on a Sunday night were less than 15m each - what made it better? The "outdoor" element: in the woods, cornfields, the "smell" of the bonfire, the cold air and the darkness - you get the point!). I gave "wooded wasteland" & "barnyard barbaric" a grade A and do those first b/c IMO they were the best. "Nightmare machine" was really good also, but by now we were getting familiar with the "formula" so the novelty wore off just a tad. Do "wicked wagonride" last as it's a good way to sit/ relax and end the total experience. Also, horns up on the smokey atmosphere, the music, carnival type performers and the stage w/ the dancers. My one small criticism/ recommendation for next year is to limit the amount of chain saws - too many! Has to be some "other" props such as those. Overall, my wife and I had a great night and would highly recommend it!

Posted 10/24/13

Second Time Visitor

Wow completely revamped this year! The sets are amazing. A lot of time was spent building these sets. Pumpkin rocked her scene! The woods are still as great as ever, proably the best feature! The actors don't break character but interact with you. Great touch. Worth it. Go relax, enjoy yourself, and don't forget to get an apple smootherd in caramel!

Posted 10/8/13

Was worth it!!!

Hands down to the people who work there!! Had me on my toes the whole time!!! When you here and see a MAN run or scream you no its good!! I will not lie my husband nearly broke his neck running from this tree thing/person in the woods.. I was in tears.. You guys ROCK!!

Posted 10/28/12

The best ever

Don't listen to the person under me, clearly they didn't get there early enough. The reason why it was so crowded is because its so popular. All of the attractions are freaking scary as anything. This place is a high scare, high action and fright attraction. The VIP passes are worth it; and no they're not 75 dollars. All of the actors did a great job. And as for the barnyard... by far the scariest thing I've ever walked through. From the beginning where a farmer yells "yoouuuu hooooo!" in your face to the crazy chainsaw ghuy at the end who gets in your face and chases you out. This place was the greatest halloween attraction ever. If i had one comment it would be to the dance show. I feel like they put too much time into the dance stage and show itsself. It reminded me of fright fest which was horrible. They could have used that money for more things in the trails.

Posted 10/22/12

Do not waste your money

Three to four hour lines for every attraction! NOT KIDDING! We timed it and we got here early. Wasn't too scary, by the time you get to the front of the line you are no longer excited to go in. So basically unless you are willing to spend $75 for the vip to skip the lines it's not worth it. My boyfriend and I go to a different haunted attraction every year and this one is at the bottom of our list. Overall the scare factor on a one to ten scale is a two. Btw the only hot beverage they serve is hot cider, no coffee, no hot chocolate. The actors get out of character easily, and the barnyard which is rated the best is terrible. Be prepared to walk into a lot of walls in pitch black tunnels so the actors have to help u out, and asthmatics just don't bother. Oh and workers are assholes here. Dont make this misake.

Posted 10/21/12

Nearly Peed myself!

I went to Corner of Chaos this past weekend and I haven't been to one this good in a while. Yes, the lines get long but they have some great entertainment to keep you occupied in line! There was a group of singers that comes around to the lines. Very cool. Fire is always fun, especially coming out of someones mouth! The fireshow rocked! There are dancers too. The woods is creepy in itself even without the actors. Makes you wonder what lurks behind the trees. This weekend was windy so even in the quiet parts of the corn, when the wind picked up, it gave me chills and goosebumps. Really something out of a horror movie. The barnyard had so much energy- it was awesome. We saved the wagon for last, it was nice to sit for a bit after waiting in line. Some great scares on the wagon, it was more like watching a show but still a good one at that! Tried not to give away anything about the scares themselves, you should go see for yourself!

Posted 10/15/12

SO SCARYY!! SO MUCH FUN!

this place is sooo scaryy! the $30 u pay is worth it. the people are great. if u dont like being touch.. the actors arent allowed to touch u, but they find the best spots to scare u! they come out of nowhere! its so much fun!!! its sooo scary! i absouleutley love it! its worth the drive and the money. go if u have the chance! LOVE LOVE LOVE IT!

Posted 10/14/12

Third year going and its absolutely amazing!!!! SOO WORTH IT!!!

Well to start off, the review below is a bunch of bull. I know the person that put it there. They work for Corner of Chaos's competitors. Low blow. Now on to the review. This year may be their best EVER!!!!! The Chaotic Carnival - which is their midway is amazing - they have a awesome dance show and some really talented singers called the Skeletones... I think. Not to mention the fire show called Sideshow Inferno. Ugh, can not get over how amazing it is. The midways blows any other haunt away!!!! Bravo whoever created these shows! Truly amazing! We then went to the Woods, pretty cool this year, quite the twist from previous years but thats good, EVERYTHING changes each year! Next was the wagon. LOVE the wagons, so cool and different!!!!!!!! And the narrators were fun to be around, but they need to work on timing, they seem to be ruining the scares. Next was the corn - this was their new haunt - so glad they got rid of the old one!!! This was so cool! and HI TECH!!!!!! I went back to buy another ticket just to see it all again! And last was the barn, which is always scary! It didnt seem to have the same oomph it had in years past but it is in the beginning of the season! It was still awesome! over all had the best time of my life! well be going back for sure! They really stepped it up his year, actors, shows, talent, lighting, everything. wonderful job! This is one i would go across the country for!!!!! SOOOOOO worth it!

Posted 10/5/12

Not worth $40 or a long drive

I went on September 30, 2011. Keep in mind this was the opening day for the 2011 season. I've been to some of the best haunts in the northeast. The website looked amazing, but the place didn't impress me at all. The cornmaze was a joke. There was maybe 3 actors in it. They were mostly kids hanging out and talking and when they heard you coming they would get ready in their places to scare you even though you had already heard and seen them. The Barbaric Barnyard wasn't horrible, but not because it was scary. There were a few actors in there who were just plain funny. We waited over 40 mins for the hayride which normally I wouldn't have minded if it was good. It wasn't good at all. When people were walking back from it they were telling others it wasn't worth the wait and they were right. I wouldn't be so mad if they had more than 2 tractors and were actually fitting all the people they could onto it. There was no hay on the tractor, it was just a huge wood slab on the back of a tractor truck and we sat all around the sides with our legs hanging off which 1-wasn't safe and 2- wasted alot of space that could have fit other people. The last thing was the Wooded Wasteland which once again, wasn't scary at all but I guess not the worst I've seen. For $40 bucks and over an hour drive I expected it to be so much better.

Posted 10/1/11
You Might Also Be Interested In...
All information on this page was submitted to New Jersey Haunted Houses and was believed to be accurate at the time it was posted. Please report any inaccuracies
here
.